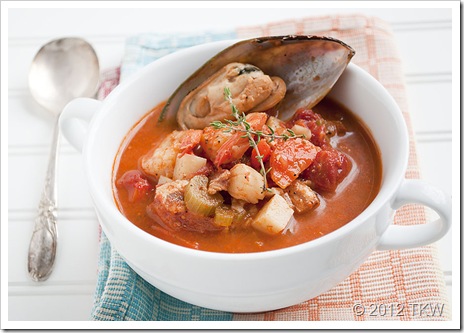 Ever make something and it turned out horrible? Disgusting? Inedible? The first time I made this soup, it ended up ranking right up there with one of the worst dishes I've ever made, maybe even worse than the first time I tried making Yakisoba.
It wasn't my fault though, no really, it wasn't. Because I'm a land locked lady, in a not so very big city, I have to rely of frozen seafood. Even the seafood case at the grocery store has finely printed words on nearly all of their seafood: previously frozen. Why in the world would I pay more for seafood that has been frozen and is now thawing on ice and absolutely must be used right away when I can buy vacuumed sealed frozen seafood and pull it out of my freezer when the mood strikes me?
All this is leading up to why; when McGyver and I were at Sam's Club, we purchased a bag of frozen Paella mix. It had mussels, little octopus, shrimp, scallops, fish chunks and krab (you can read my post on Krab here). At $11.99 for a giant 3 pound bag, it was a deal we didn't want to pass up. Immediately I knew I wanted to make paella (which would be a first for me) and seafood chowder.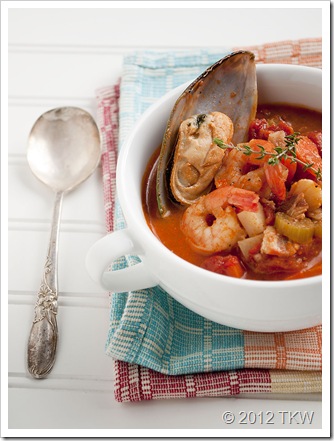 I made that paella, truthfully it wasn't very good, but I chalked it up to not having the right equipment, the recipe I used and my inexperience. A short while later I made the seafood chowder. I spiced it up a bit by using spicy V8 juice. While it was cooking it smelled great, we couldn't wait! I dished up the bowls and we sat down to sup. The broth was phenomenal, the seafood, ick. Seriously fishy tasting, so bad I couldn't choke down a bite. I had thought that the seafood mix in the paella may have been the culprit to the bad flavor of the dish but I didn't have anything to measure against. This time, there was no doubt why it tasted my dish tasted so bad.
My men were a little braver and sweeter, "it's not that bad" they claimed. "Boy is the broth great, maybe you can make it again with different seafood?" they encouraged. That was months ago, and I just now have got the bad taste out of mouth enough to have given it another try.
I am so glad that I did, the spicy V8 is such a good pair with the seafood, much like a zippy cocktail sauce. Every bite was a delight, unlike the last time. I served some crusty bread with the chowder to soak up all the spicy tomato goodness. Honestly I could have sucked the broth out of the bread and been quite content.
If you see a seafood deal that seems to good to be true, run away…run away!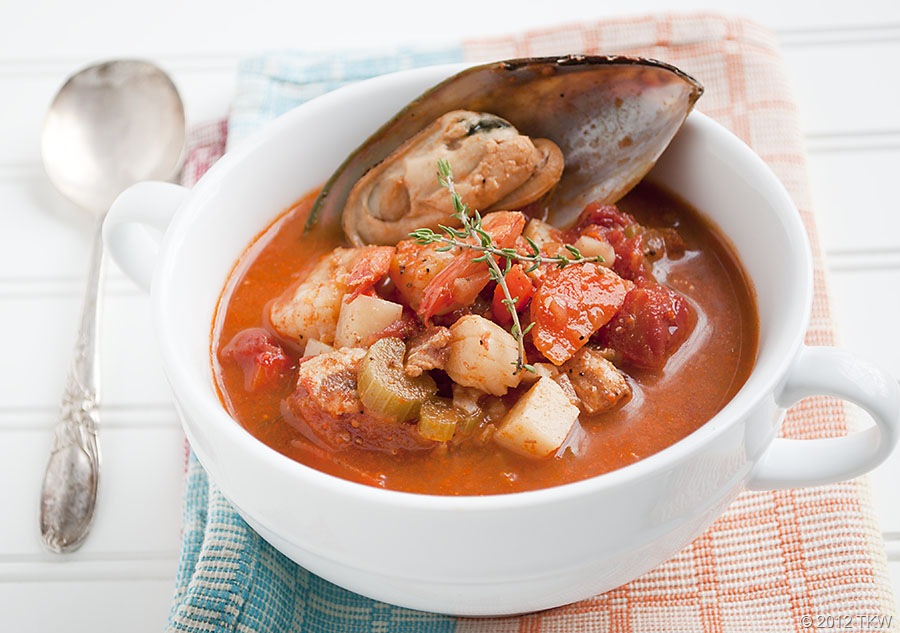 Spicy Seafood Chowder
2016-06-12 14:39:46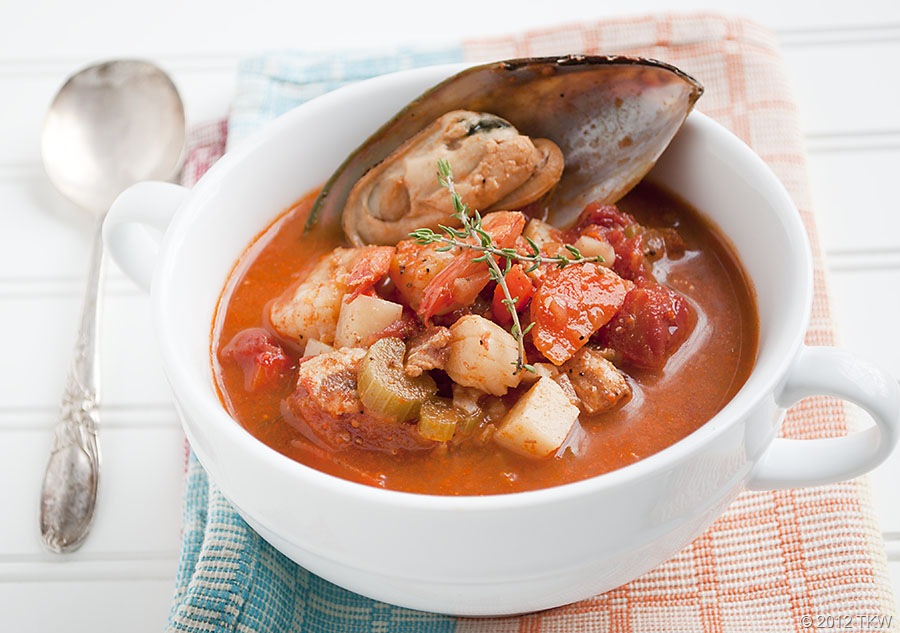 Serves 10
Ingredients
4 slices bacon, chopped
1 large onion, diced
1 1/2 cups diced celery (about 2 large stalks)
1 1/2 cups diced carrots (about 2 large)
3 cloves garlic, minced
2 cans (14.5 ounces) diced tomatoes
1 1/2 cups spicy V8 juice
1 bottle (8 ounce) clam juice
2 medium potatoes, 1/2" dice
4 teaspoons Old Bay Seasoning
1 tablespoon fresh thyme
2 pounds mussels, in shell (fresh or frozen)
12 ounces bay scallops (frozen or 12 oz after shelled)
8 ounces peeled large shrimp
Instructions
In a large dutch oven over medium high heat, cook bacon. When bacon is browned but not overly crisp. Spoon off all the fat except 1 tablespoon. Turn heat down to medium, add onion, celery, carrots and garlic. Cook until softened, stirring occasionaly, about 10 minutes. Add diced tomatoes, spicy V8 and clam juice. Bring to a boil.
Add potatoes, thyme and Old Bay Seasoning, cook until potatoes are tender but not falling apart, 15 to 20 minutes.
Add seafood, cover and cook until seafood is done (mussel shells should open, shrimp and scallops should no longer be translucent). Salt and pepper to taste. Serve immediately.
The Kitchen Witch http://www.thekitchenwitchblog.com/

Informal Cookery Definitions A to Z
Today, it's all about the French terms starting with "Au" today. In culinary terms it basically means with, not to be confused with the Element abbreviation for gold: AU.
Au Kirsch. (oh KIRSH). A French term referring to a dish flavored with Kirschwasser, more commonly called kirsch (a German cherry brandy).
Au Madere. (oh mah-DARE). A French term used to refer to a dish cooked with Madeira (a fortified Portuguese wine).
Au Marsala. (oh mahr-SAH-lah). Like au Madere, au Marsala is a French term for a dish cooked with Marsala (a fortified Italian wine, similar to a sweet sherry).