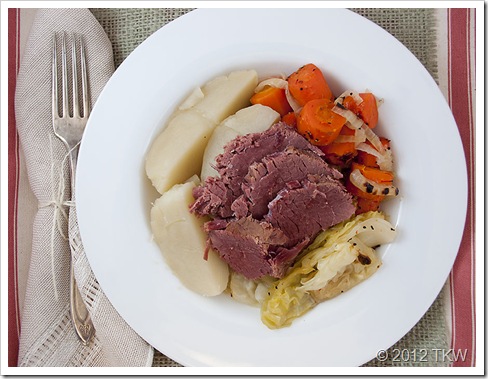 I am so not trendy, seems like when ever everybody is into something, I'm like, "meh". Just look at my wardrobe… For example the whole five minute artisan bread, I didn't post anything like that until this post in December. Here I go again… Last year the Charcuterie was all over the blogosphere, there were even contests for it. I read them with interest, but only interest. Oh I wanted to get into the make everything from scratch kind of life but my lazy bone seems to get in the way every time! Plus I am kind of quirky, it seems when something is super trendy I want to turn the other way and run. At least until it shows some staying power and I find it has the possibility of positively contributing to my life.
Unbeknownst to me, McGyver had been rooting around on the internet and decided to order a cook book and some "pink salt". I knew that McGyver wanted to try corning venison, as a matter of fact ,when I attempted to butcher our own deer for the first time last hunting season, I vacuumed packed an unidentifiable roast part and labeled it "Venison roast for corning 2.5 lbs.". What I didn't know and he certainly didn't know was that he just bought the trendy and popular Charcuterie by Michael Ruhlman and Brian Polcyn.
Now that the hubbub has died down, I thought could comfortably find out what it was all about without the fear of feeling trendy, said my inner rebel. And truthfully McGyver left me no choice since he had already purchased everything we needed. Plus this was McGyver's deal, so he dutifully did the corning part while I snapped some photos and read the directions to him.
It turns out that corning meat is as simple as making a brine and leaving it for 5 days. It took McGyver about 5 minutes to have the brine made, we let it cool and then submerged the venison roast and let it set in the refrigerator for the required time. Naturally, this is where McGyver's part ended and mine began.
I was quite eager to to cook the venison, would it still taste like venison? Would it be transformed into something more like corned beef? Would the texture be similar? Would if have that lovely pink color? The answers ended up being yes to all of them. It had a wonderful salty briny flavor, the flavor that has always endeared corned beef to me.
Honestly, if I was served this I would think that it was corned beef but I would have thought that it was just a tinge different than my usual. It was so close but I could still detect that different little flavor that probably came from being venison. Or I was expecting it, so there it was. The texture did not disappoint either. I had no idea what part of the deer it was from, whatever it was, it worked out famously.
In order for your corned meat to have the classic flavor and color you will need to order the "Pink Salt", in other words Nitrate. You can certainly corn meat without it but it will be grey and lack the classic flavor. If you are concerned about nitrates related to health, please educate yourself. My personal feeling is that a little is ok, over indulgence in anything is what typically results in health issues. I will make this one important note, nitrates kill botulism, given the choice from getting botulism or ingesting a little nitrate I know what my choice would be! You can order some from here.
My Boby boy loves cabbage but doesn't care for it when it's boiled. Usually I roast it with the potatoes and carrots but this year I simmered the potatoes with the venison to flavor them and I braised the cabbage and carrots. I followed the recipe that I found from The Nourishing Gourmet, I adapted the recipe to lower the fat and used the liquid from the corned venison to braise the veg in, versus chicken broth and used 4 carrots and doubled the onion.
Note: Please save you broth. Tomorrow I'm going to post a couple of ways to use your leftovers so SAVE YOUR BROTH!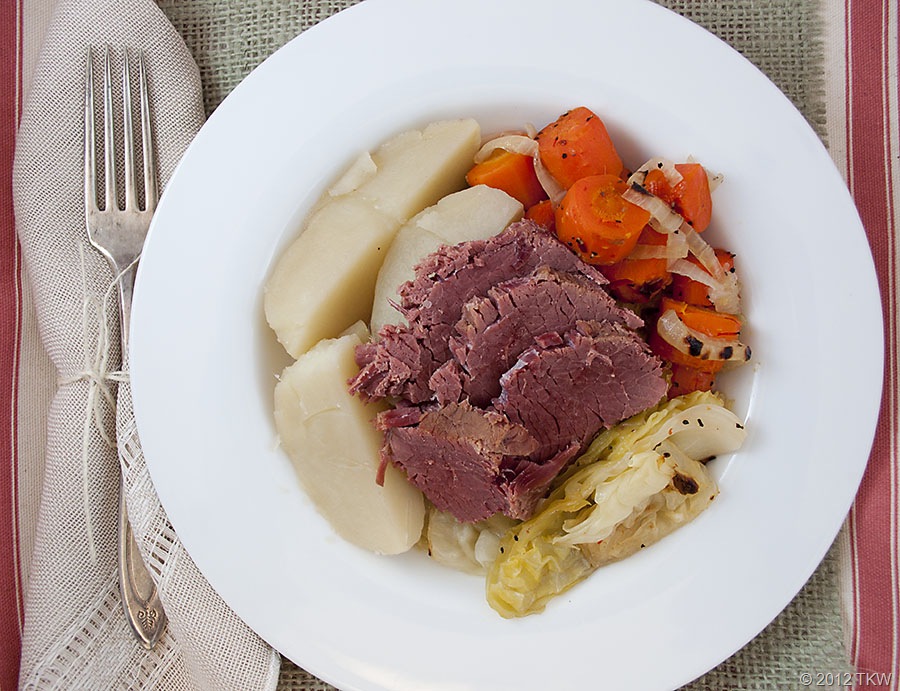 Corned Venison (or beef) and Potatoes
2016-06-11 22:56:22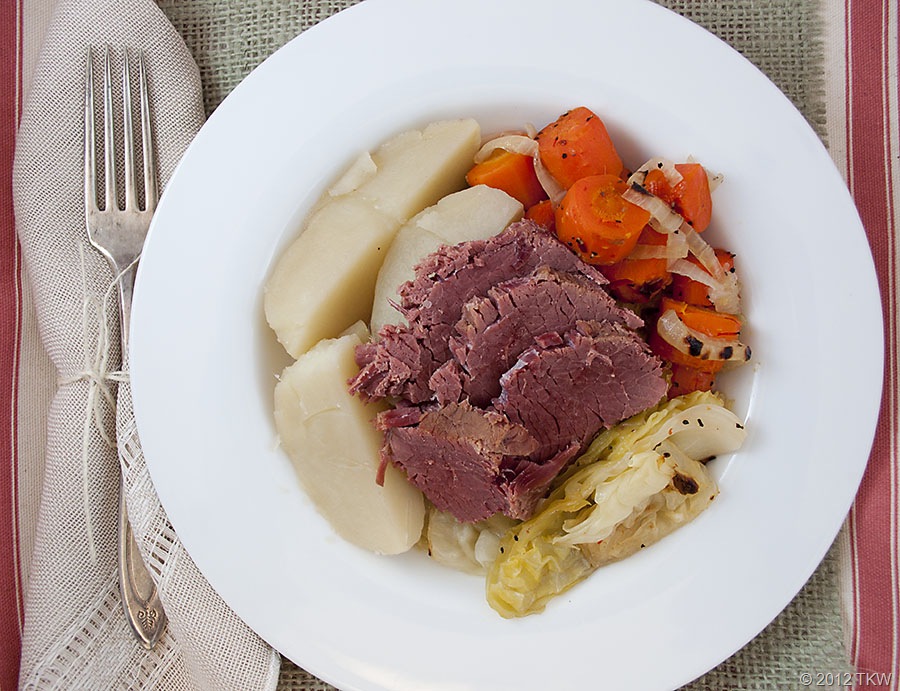 Serves 7
Ingredients
5 pound venison roast (or beef brisket)
1 gallon water
2 cups kosher salt
1/2 cup sugar
5 teaspoons pink salt
3 garlic cloves minced
4 tablespoons pickling spice, divided
8 potatoes, peeled and quartered
Instructions
Combine the water, salt, sugar, pink salt, cloves and 2 tablespoons pickling spice in a large pot. Bring to a simmer, stirring occasionally until the salt and sugar are dissolved. Remove form heat and let cool to room temperature then refrigerate until completely chilled.
Place the brisket in the brine and weight it down with a plate to keep it submerged. Refrigerate for 5 days.
Remove the brisket from the brine and rinse thoroughly, discard the brine. Place the brisket back in the pot and cover with water. Place the remaining 2 tablespoons pickling spice in a spice bag or cheesecloth and add to the pot. Bring to a boil, then reduce the heat, cover and simmer gently for about 2 hours.
Add the peeled and quartered potatoes and continue to simmer another hour or until the meat and potatoes are fork tender.
Using a slotted spoon, remove meat and potatoes, slice the meat. Remove and discard the spice pack, reserve the broth for ladling over the meat and vegetables if desired.
Notes
Recipe adapted it from Charcuterie by Michael Ruhman & Brian Polcyn. The ingredients listed are for a full roast, I cut it half to do my smaller venison roast.
The Kitchen Witch http://www.thekitchenwitchblog.com/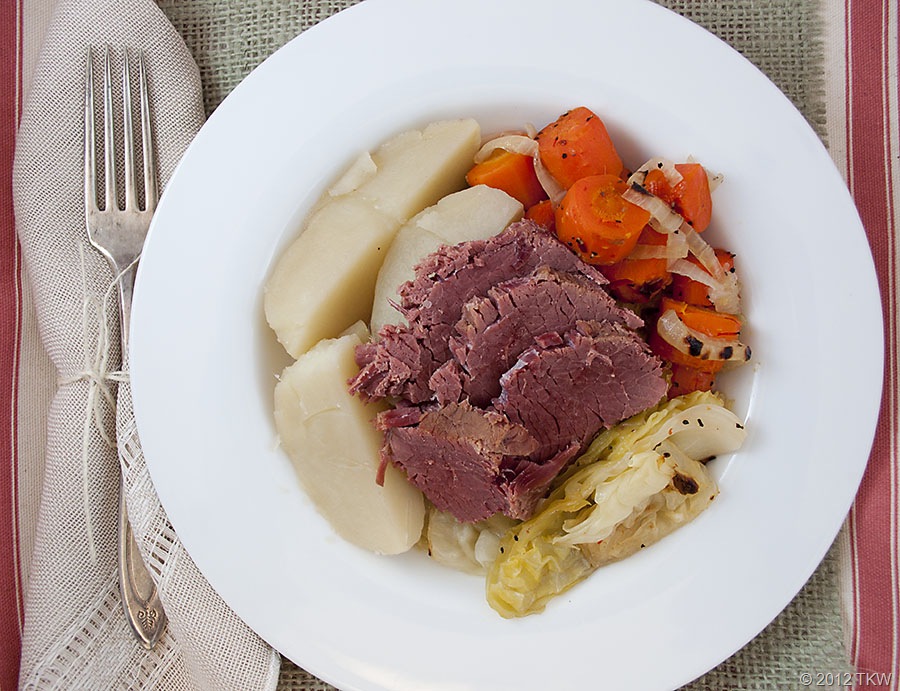 World's Best Braised Cabbage
2016-06-11 23:01:41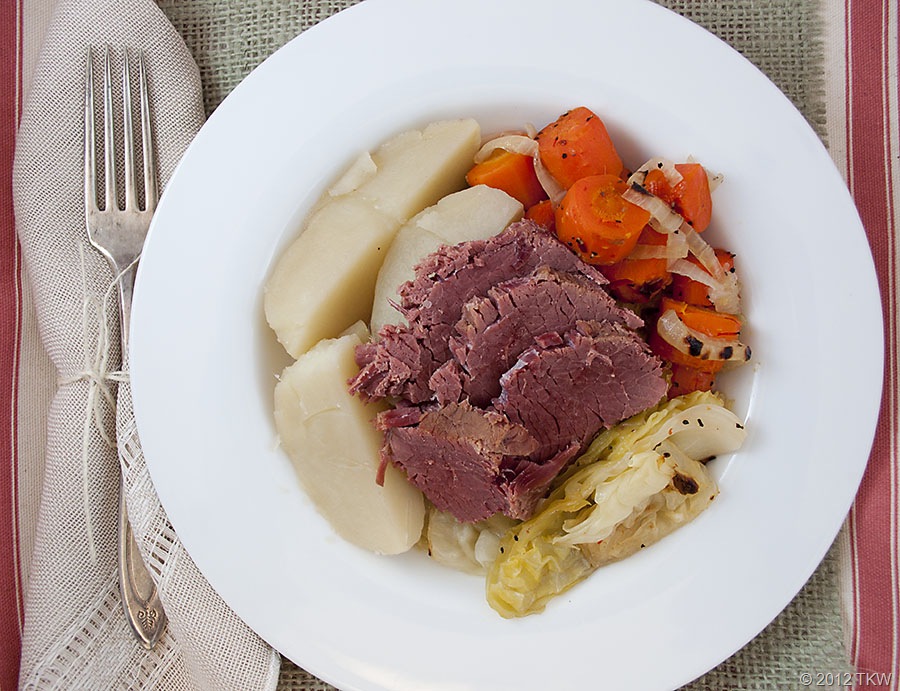 Ingredients
1 Medium head green cabbage (about 2 pounds)
2 large yellow onion
4 large carrots, cut into 1/4 inch rounds
1/2 cup broth from corned meat or chicken stock
Olive oil cooking spray
Coarse salt and freshly ground black pepper
1/8 teaspoon crushed red pepper flakes, or to taste
Fleur de sel or coarse sea salt
Instructions
Heat the oven to 325F. Lightly spray a large gratin dish or a baking dish (9 by 13 inch works well).
Trimming the cabbage: Peel off and discard any bruised or ragged outer leaves from the cabbage. The cabbage should weigh close to 2 pounds (if you don't have a kitchen scale, consult the grocery store receipt). If the cabbage weighs more than 2 pounds, it won't fit in the baking dish and won't braise as beautifully. To remedy this, cut away a wedge of the cabbage to trim it down to size. Save the leftover wedge for salad or coleslaw. Then cut the cabbage into 8 wedges. Arrange the wedges in the baking dish, they may overlap some, but do your best to make a single layer.
The Braise:Scatter in the onion and carrot. Add broth or stock. Season with salt, pepper, and the pepper flakes. Cover tightly with foil, and slide into the middle of the oven to braise until the vegetables are completely tender, about 2 hours. Turn the cabbage wedges with tongs after an hour. Don't worry if the wedges want to fall apart as you turn them: just do your best to keep them intact. If the dish is drying out at all, add a few tablespoons of broth.
The finish: Once the cabbage is completely tender, remove the foil, increase the oven heat to 400, and roast until the vegetables begin to brown, another 15 minutes or so. Serve warm or at room temperature, sprinkled with fleur de sel or other coarse salt.
Adapted from The Nourishing Gourmet
Adapted from The Nourishing Gourmet
The Kitchen Witch http://www.thekitchenwitchblog.com/

Informal Cookery Definitions A to Z
Blini. (BLEE-nee). Blini are thin yeast pancakes usually made of buckwheat flour traditionally served with melted butter, sour cream and caviar or smoked salmon. Sometimes leftover blini are turned into a main course by stuffing them with meat and frying them in butter, or turned into a sweet treat serve with jam and sprinkled with powdered sugar. Blini is a Russian term meaning sing (blin).
Blinchiki. (BLEEN-chih-kee). Are the crepe version of the blini, very thin. Typically they are stuffed and then fried in butter.
Blintz (or Blintzes). (blints, blintses). Is the Jewish terminology for Blini, however the Jewish Blintz is more traditionally stuffed with cheese and fried in oil. Because oil is an important part of the Hanukah story, blintzes are often served then.
Blueberry Slump. Originated in New England, it is similar to a cobbler in that it has a fruit filling and uses a biscuit dough, however in the case of the slump the biscuit starts at the top and sinks or slumps down to the bottom to form the crust while the blueberries rise to form the topping.