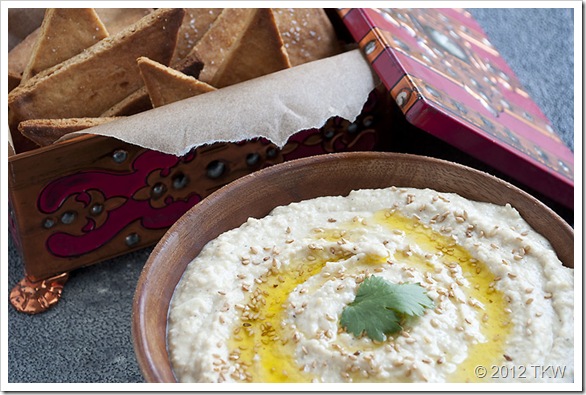 I got an email from Erin over at Big Fat Baker that announced the next holiday for the Holiday Recipe Club was going to be Buddha's Birthday. Whoa, you say….Buddha's birthday? That's right, It just so happens that the Holiday Recipe Club is spreading it's wings and going international, baby. Which suits this blogger just fine. The only criteria for the HRC is that you must use at least one of the given ingredients. In celebration of Buddha's birthday we were given a choice of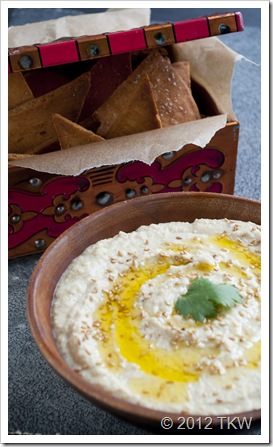 : garam masala, sesame seeds and tofu.
So I was saying, about the email from Erin; I was telling McGyver about it and I was going, "well what am I going to do"? A curry came to mind first, I started rambling on and McGyver was giving me the look, like I hear you but…I don't really care…then just like that, HUMMUS, I should make hummus. An ingredient of hummus is tahini, that's right, ground up sesame seeds. How smart is that

! Oooh and I'll really be special and flavor it with garam masala, double whammy.
Garam masala is a common Indian spice mix (apparently it's Bollywood movie also), most Indian people make their own so no two are typically the same. Me, I get mine from a rare spice purveyor, McCormick's, right not so rare, but convenient. Plus I enjoy their flavor mix. Garam Masala is typically made up of coriander, black pepper, cumin, cardamom, cinnamon, and cloves just to list a few. I could make my own but I don't use it that frequently.
Another reason I thought of hummus is that it's Middle Eastern, and where is Siddhartha Gautama (Buddha) from…the Middle East. Oh it makes so much sense to my brain. The hummus discussion resolved (not that McGyver was really engaged in it), McGyver and I fell into the topic of, "is Buddhism a religion or a philosophy". Yes, we often have those kinds of discussions, we're deep like that. Not really I think we had a couple of cocktails, which seems to make subjects more meaningful.
The answer is yes, it is both a religion and philosophy. Just a little info from Wikipedia (because I found it fascinating).
The Buddha lived and taught in the eastern part of an Indian subcontinent some time between the 6th and 4th centuries BCE.He is recognized by Buddhists as an awakened or enlightened teacher who shared his insights to help sentient beings end ignorance (avidyā), craving (taṇhā), and suffering (dukkha) of dependent origination, realize sunyata, and attain Nirvana…

…The foundations of Buddhist tradition and practice are the Three Jewels: the Buddha, the Dharma (the teachings), and the Sangha (the community). Taking "refuge in the triple gem" has traditionally been a declaration and commitment to being on the Buddhist path and in general distinguishes a Buddhist from a non-Buddhist.
When I picture Buddha I always picture the fat, jolly Buddha but the truth is that he is the Chinese Buddha, the other Buddha images are of a strong lithe Buddha, why I wondered. I found the best answer at Yahoo:
You have to understand that Buddhism blends wherever it goes. Although the core teachings remain intact, but the outer bark–the "form" that the religion/philosophy expresses–adapts to the receiving culture. Therefore, iconic representations of ideas or teachings differ from area to area. Tibetan Buddhism has a unique flavor, and so do Japanese Buddhism, Chinese Buddhism, Thai Buddhism, Sri Lankan Buddhism, and so on.
You can think of Buddhist teachings as a vehicle, a car. You'd have all sorts of models, parts, designs, etc., but a car is still a car despite all its variable forms to choose from.
Well that was probably more education on Buddha than you cared to have on a food blog, but it's Buddha's birthday and he certainly deserves some recognition for all of his good teachings.
To counter the long post, the recipe is simple, consisting of chickpeas, preserved lemons (you can get the recipe for that here), salt, tahini, garlic and garam masala. The flavor of the hummus is light, full of spices with just a little lemony bite. Because I left out the olive oil (only used it on top), it's a little friendlier to the waist, rubbing the Buddha's belly for luck is one thing, sporting the Buddha's belly is probably not a good thing (I'm referring to the jolly Chinese version, of course).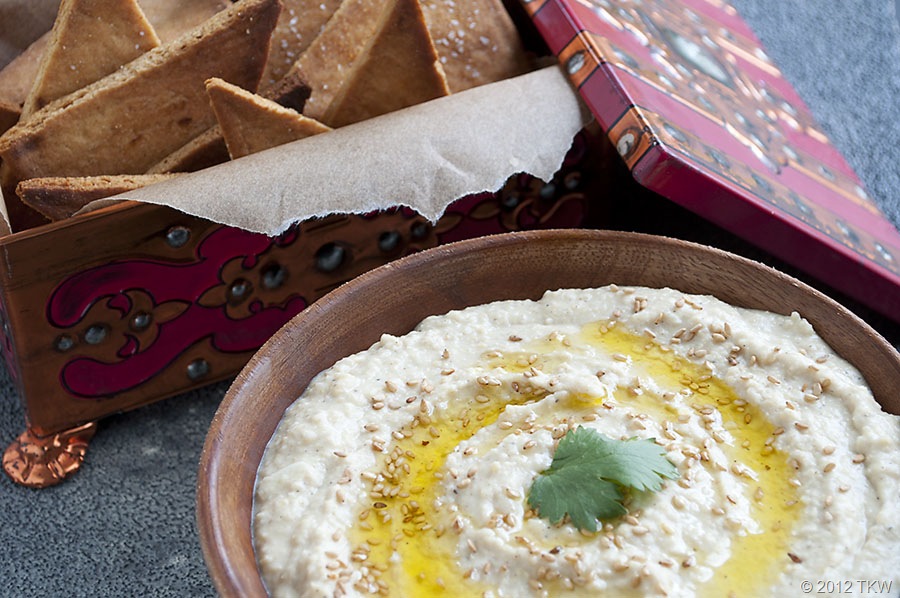 Garam Masala & Preserved Lemon Hummus
2016-06-11 13:41:52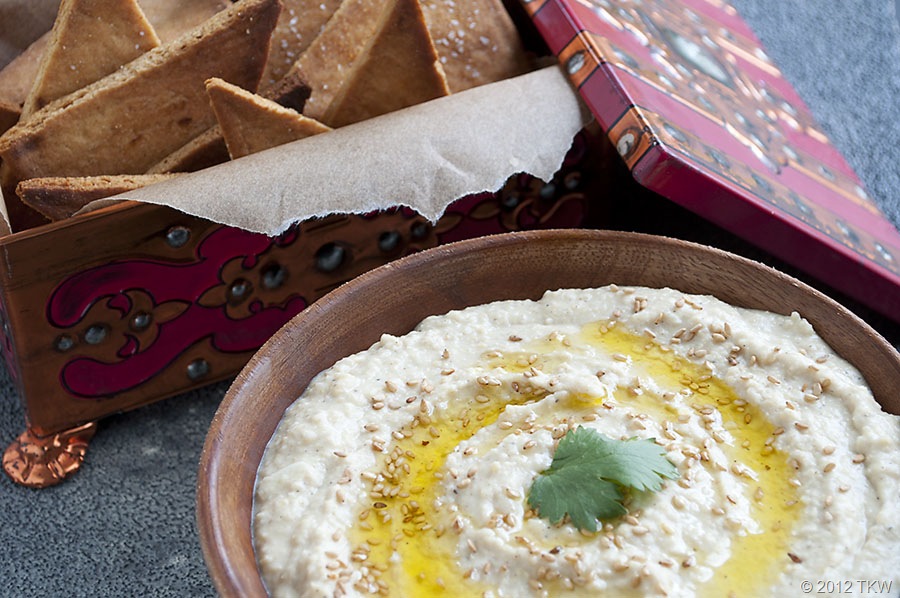 Ingredients
2 cans garbanzo beans (chickpeas), drained with liquid reserved
6 cloves garlic
1/2 preserved lemon, flesh and skin, rinsed
1 teaspoon garam masala
1/2 teaspoon salt or more to taste
Extra Virgin Olive Oil and toasted sesame seeds for garnish, if desired
Instructions
Place all ingredients except reserved garbanzo bean liquid and pulse 4 to 5 times, then turn on and slowly pour the liquid through the feed tube until desired consistency is reached. Drizzle with EVOO and toasted sesame seeds. Serve with pita chips or sliced vegetables.
Notes
Yields 2 cups
The Kitchen Witch http://www.thekitchenwitchblog.com/

Informal Cookery Definitions A to Z
Cake. Is typically a sweet baked good served as dessert. Although pancakes, griddlecakes, and coffeecakes are quick breads and potato, zucchini, etc. cakes are all vegetable cakes share the cake name, the only commonality is the term cake. Some common forms of cake are: sponge, butter, cupcakes, Devil's Food/Fudge cakes, pound, spice, white, fruit, cheese and chiffon. Wow, that's a lot of cakes and I'm not sure if that list is entirely inclusive.
Cake tester. A thin metal, skewer like tool used to test whether a cake is finished cooking. The tester is inserted in the center of the cake and then viewed to see if there is batter clinging to it, if it is, the cake needs further cooking time. A toothpick is a suitable substitute.
Calf. A cow's offspring. Only male calves are butchered for veal, the female calves are raised for breeding.
Calf Foot Jelly. A jelly made by boiling calves feet as a base for aspic. However, it has been replaced by commercial gelling agents which is said to not be as flavorful.
Check out all the other recipes celebrating Buddha's Birthday: