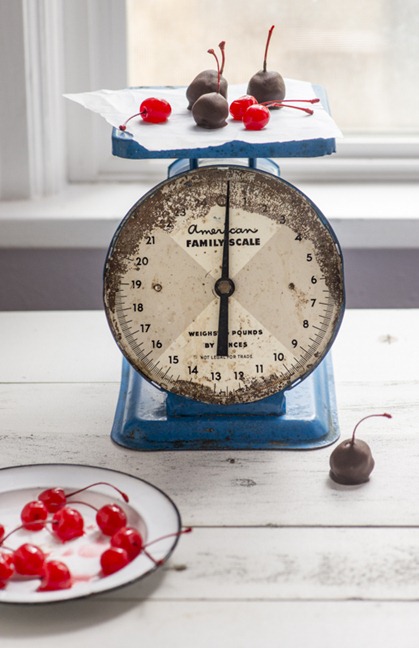 I'm teaching a cooking class this month, the theme is "Breakfast in Bed", obviously geared towards Valentine's Day. The menu plan is; Stuffed French Toast, Glazed Grapefruit, Sunrise Champagne Cocktail, and Chocolate covered cherries and/or strawberries (naturally I'll be sharing the recipes).
I was sitting on the fence about chocolate covered cherries or strawberries, when I hit upon a recipe on Pinterest for Cherry Cordials. I thought I'd check it out, as Pinterest tends to makes you do. To my absolute delight, it was one of Veronica's recipes from Veronica's Cornucopia. I've been an avid follower of hers every since I started reading her hilarious comments that she would leave on Eliot's Eats.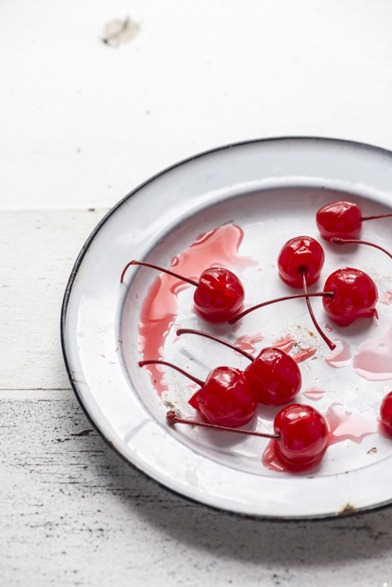 It seems as if I've adopted two grandchildren. I have been occasionally watching two boys from our 'feeder' Cub Scout troop. It's strange how things happen. See, a year ago they got a new baby sister. She was premature and has loads of medical issues. I didn't really even know the boys until last year when they came up to a Scout weekend at our cabin and had a great time.
Their mom spends most of her time in Seattle, and Robert has become, essentially a single parent. We offered to help an anyway we could, just imagining what emotional and financial hardships they must be going through. And so it began, I /we watch the boys on days when school is closed but dad has to work. And starting this month, I will be picking up the boys from school and taking the oldest one to and from track practice two days a week. If I didn't, it would mean no track for the oldest, and I just couldn't let the child miss out because of his family situation.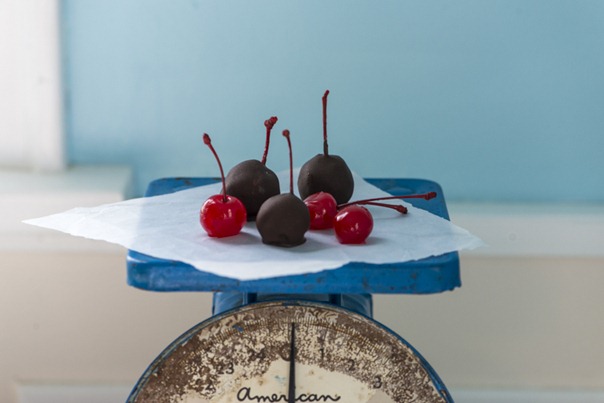 Now this is all leading to cherry cordials, I promise. Before deciding on whether I was going to demonstrate how to make cherry cordials à la Veronica, I thought it would be a good idea to give them a test run. The recipe calls for maraschino cherries, without stems, but my grocery store only had ones with stems. Easy to remove them, so no worries and certainly not worth stopping at another store.
Since the boys were going to be over for the day I thought it would be fun to have them help make the cordials. Then we could box some up and they could have something for their mom for Valentine's Day. With boys helping I decided it might be best to leave the stems on.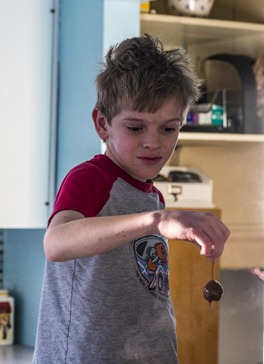 (This is what boys hair looks like when they don't have a mom at home

)
Leaving the stems on made it perfect for little hands to hold while dipping.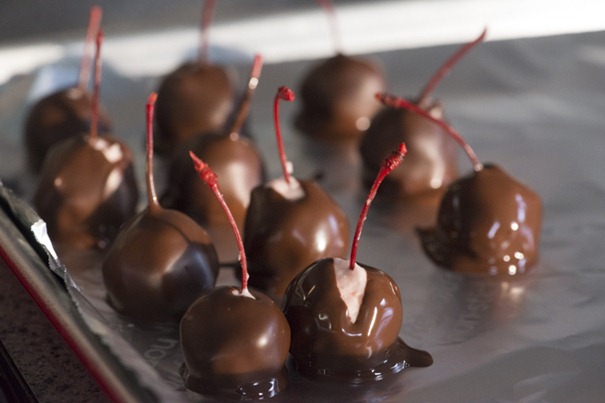 The cordials need to be completely covered in chocolate, and just a wee bit up the stem so that they are completely sealed. This is to prevent any leakage later as they develop that inner cherry-licious goo. Needless to say there was some re-dipping after the boys got bored and went back to Zelda and Legos.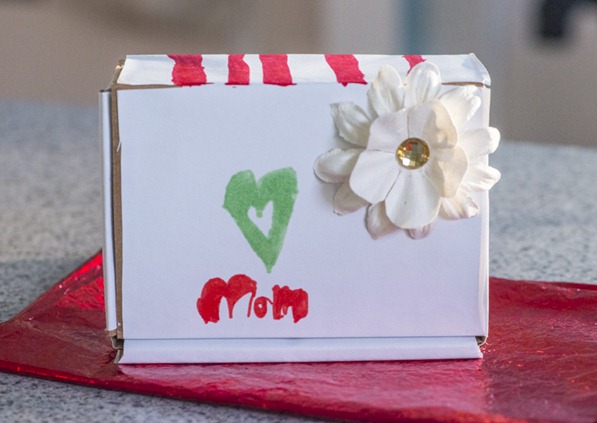 I covered a little cardboard box with white paper and let them decorate it. I glued on the flower with the bling because the boys said their mom likes shiny stuff (and what mom doesn't?).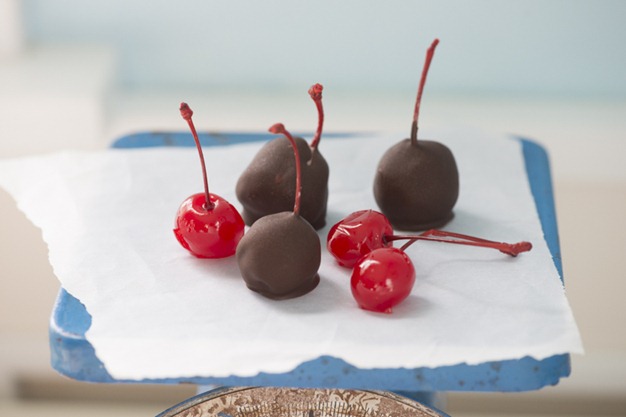 The boys also got Stuffed French Toast for lunch, which was a big hit! I decided to forego the Sunrise Champagne Cocktail though. Maybe in a few years?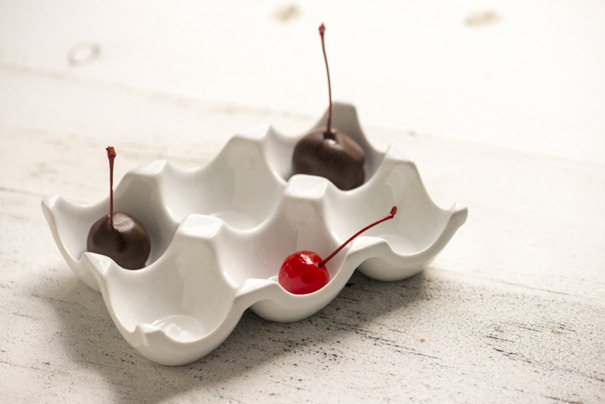 The only modification I made to Veronica's recipe was following her updates to the recipe, using stemmed cherries, which I think were easier and look stunning and substituting the paraffin/shortening with virgin coconut oil. These cherries are a staged process so plan accordingly. The fondant covering should be frozen for at least 2 hours, and the cherries ideally need to wait two weeks before being consumed if you want a nice gooey inside. But as the boys would certainly tell you, they are quite delicious fresh off the press.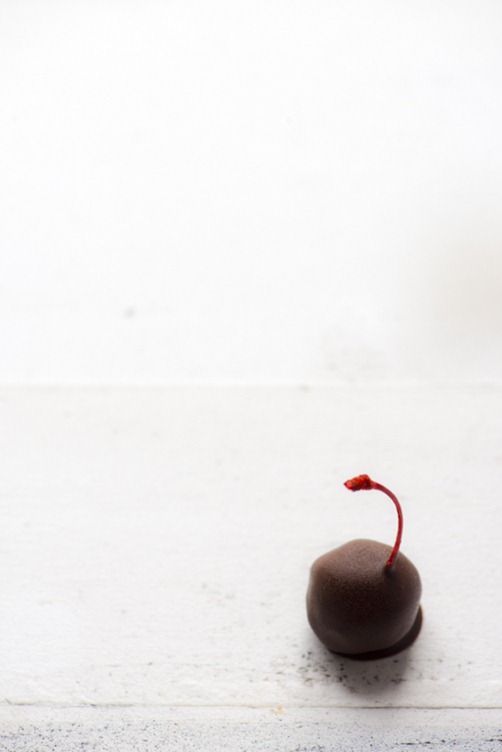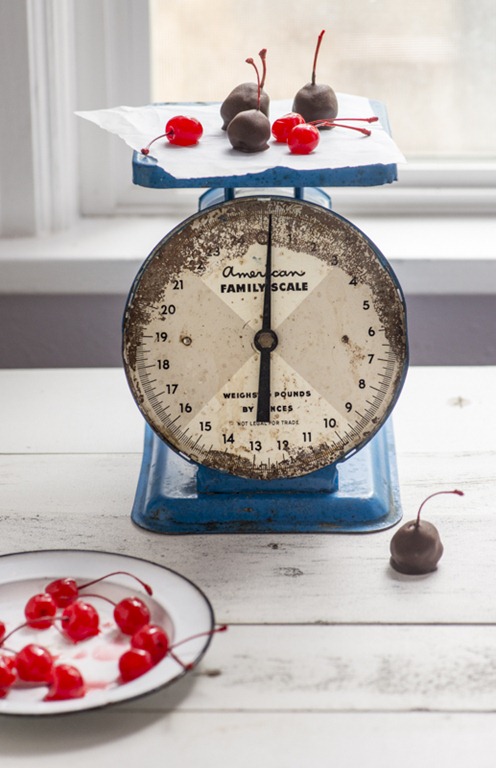 Cherry Cordials
2016-06-10 20:42:46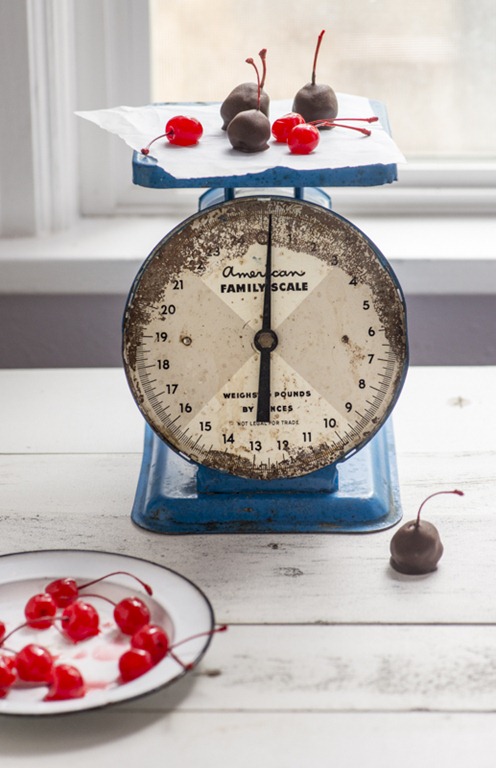 Ingredients
2 (10-oz) jars maraschino cherries, with or without stems (you'll need 40-50)
¼ c butter, softened
2 ¼ c powdered sugar
1 T reserved cherry juice
½ t vanilla extract
¼ t almond extract
1 (12-oz) bag semi-sweet chocolate chips
2 T virgin coconut oil
Instructions
Drain the cherries, reserving the juice. Shake them out well in the colander (do not rinse) and then place them on a double layer of paper towels to dry. Leave them on the paper towel while you prepare the fondant. Don't over dry.
Cream the butter with 1 cup of the powdered sugar, then add 1 T reserved cherry juice, the extracts, and the remaining sugar; stir until mixed. You may have to knead it with your hands, add more butter if necessary so that it will be like soft dough.
Line a baking sheet with wax or parchment paper. Take small pieces of fondant, about 1 or 2 teaspoons, and press them flat on your palm. Wrap around the cherries, pinching off the excess before rolling them smooth and placing on the wax paper. Repeat until all cherries are covered with the fondant. Set in the freezer until well chilled, at least 2 hours.
Using a double boiler, melt the chocolate chips and coconut until smooth. For no stem cherries: Dip each cherry in the chocolate using a fork, drawing fork across rim of pan to remove excess coating. Drop coated cherry upside down onto waxed paper, swirling a thread of coating from fork across top for a decorative touch or use your fingers if it is easier. For stemmed cherries. Hold onto the stem and swirl in the chocolate, coating the entire cherry and part way up the stem. Let the excess chocolate drip off.
Once all the cherries are coated, place in the refrigerator until the chocolate is set; check bottoms and reseal with additional melted coating, if necessary. You want every part of the center covered or it will start to leak out as it liquefies. Store in a cool place (do not refrigerate) for 2 weeks to form cordial.
Notes
Using the cherry juice makes a pink center. If you want it to be white, just use milk instead of the juice. If you like, you can soak the cherries in alcohol, such as rum, brandy, Kirsch, port, cognac, amaretto etc., to give them an extra flavor kick! Just drain the cherries and soak them overnight , then drain them again before proceeding with the recipe.
Adapted from Veronica's Cornucopia
Adapted from Veronica's Cornucopia
The Kitchen Witch http://www.thekitchenwitchblog.com/