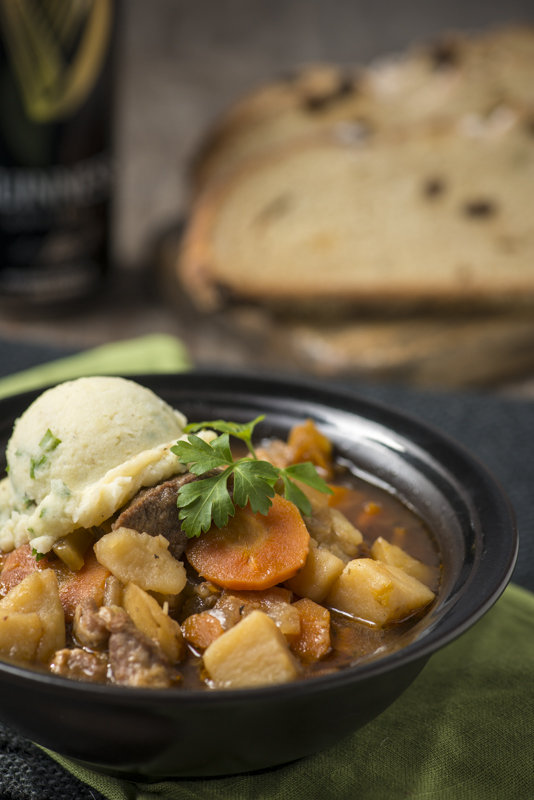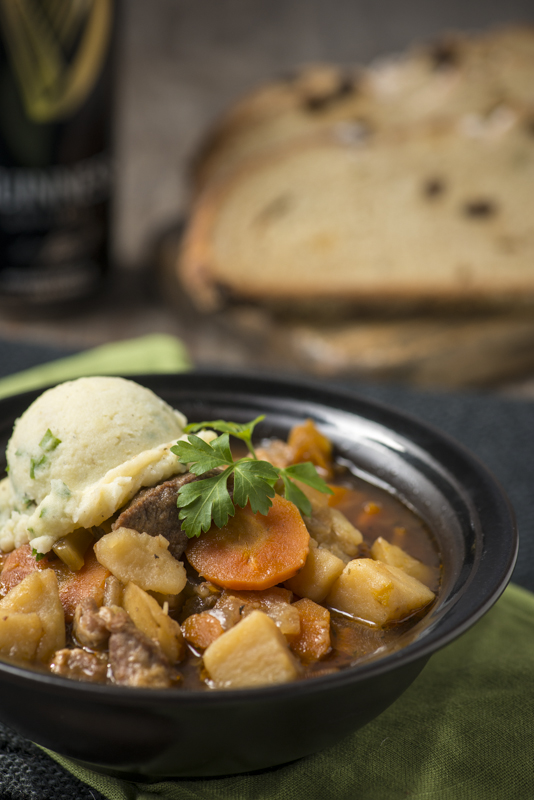 I'm not Irish but both of my kids have Irish blood running through them which I figured that means I'm Irish by proxy. Even if I'm not Irish, I have red hair (thanks to a box), freckles and hazel eyes. I certainly could tell someone that I had an Irish heritage and they would believe it.
However, in this great melting pot of the USA, it doesn't really matter does it? We celebrate all different heritages; that's what a true melting pot does, although I have yet to see Norse Day with a lutefisk fest (ummm yuk). For this green holiday, one that celebrates all that is good about Ireland, I recommend you whip up this stew.
It is classically the epitome of all that represents comforting Irish food. And this dish is bathed in the iconic Guinness stout beer. Typically you see this type of stew made with beef in the Americas, but in Ireland they are more likely to eat lamb (beef can easily be substituted if desired) plus it has potatoes two ways.
That's how the Irish do it, potato, potato, potato. Sometimes they will have potato three different ways in one meal, true, I wouldn't kid you. My stew has potatoes simmered in it, then it's topped with champ. Champ is simply mashers and green onion mixed together (use this recipe and substitute the herbs for green onions). Remember my green onions that grow in my window…came in handy.
Although classically Irish I did add a little secret melting pot ingredient, A-1 sauce. It's sweet citrusy undertones are a perfect foil for the bitterness from the stout. Serve this with Irish Soda bread and some more Guinness and I leave you with this Irish Blessing:
May the road rise up to meet you.
May the wind always be at your back.
May the sun shine warm upon your face,
and rains fall soft upon your fields.
And until we meet again,
May God hold you in the palm of His hand.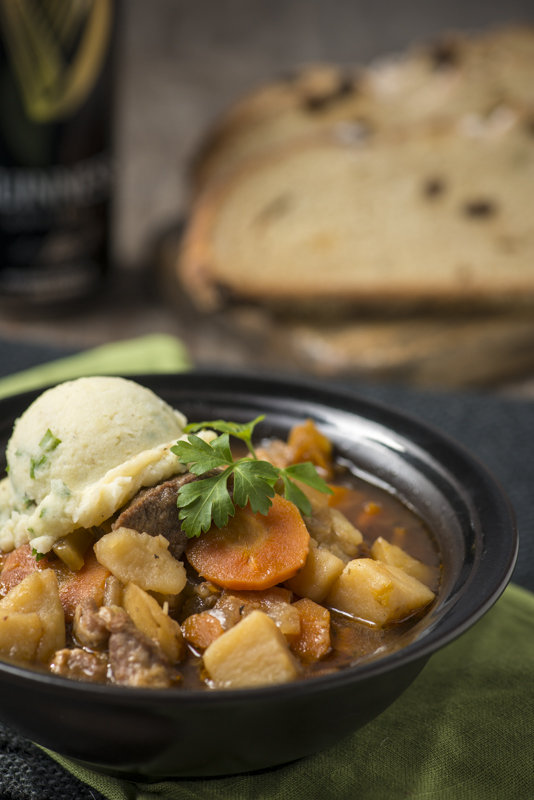 Guinness Irish Lamb Stew
2016-06-10 19:58:31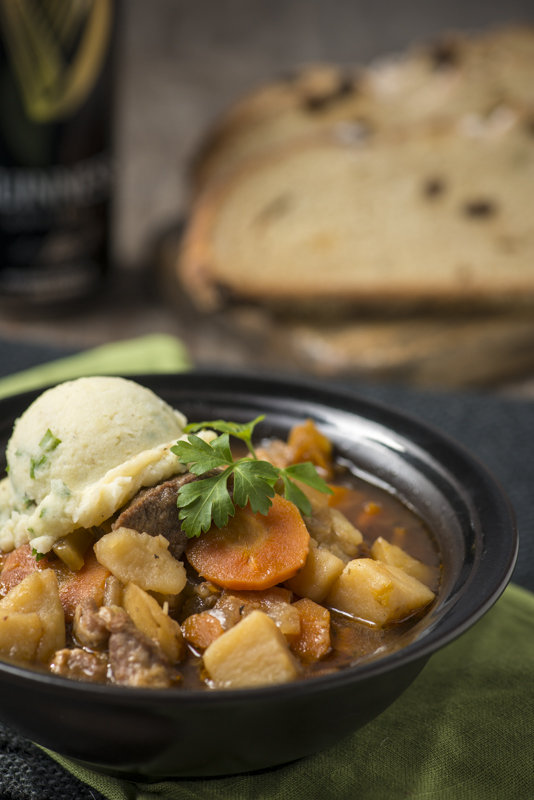 Serves 10
Ingredients
2 tablespoons oil
1 ½ pounds boneless lamb, cut into 1-inch cubes
¼ cup flour
1 onion, chopped
2 cups sliced carrots
1 cup chopped celery
3 garlic cloves, minced
1 14.5-ounce Guinness Stout beer
2 medium potatoes, waxy type like Yukon Gold, cut into ½" cubes (or you can use parsnip, turnips or rutabagas)
3-4 sprigs fresh thyme or 1 tablespoon dried thyme
2 tablespoons A-1 sauce
3 cups beef stock
Kosher salt and pepper
Instructions
Heat oven to 275°F. Heat 2 tablespoons of oil in a large Dutch oven over medium heat. While the oil heats, pat the lamb dry, season with salt and pepper, then roll or dust in flour so that all sides are lightly covered.
Working in batches, add lamb in a single layer to the hot oil and brown on all sides. Remove with a slotted spoon and drain on a paper towel lined plate, set aside.
Add onions, carrots and celery in to the same Dutch oven. Cook, stirring occasionally, until the onion just begins to sweat and soften, about 2-3 minutes. Add garlic and cook another minute.
Pour in Guinness and use a wooden spoon to deglaze the pan, scrape the bottom of the pan to get up any brown bits. Bring to a low boil and cook until the Guinness is reduced by half.
Add the browned lamb, potatoes, thyme, A-1 sauce, and beef stock. Add salt and pepper to taste. Stir then cover with lid and place into oven. Cook 1 hour then check on the stew. If the top of the stew is dry, add some extra beef stock or water. Taste for seasoning; add additional salt and pepper as needed then cover again and cook until the lamb is tender, another 30 minutes to one hour.
Ladle into bowls and top with champ potato if desired (mashed potatoes and green onion mixed).
The Kitchen Witch http://www.thekitchenwitchblog.com/