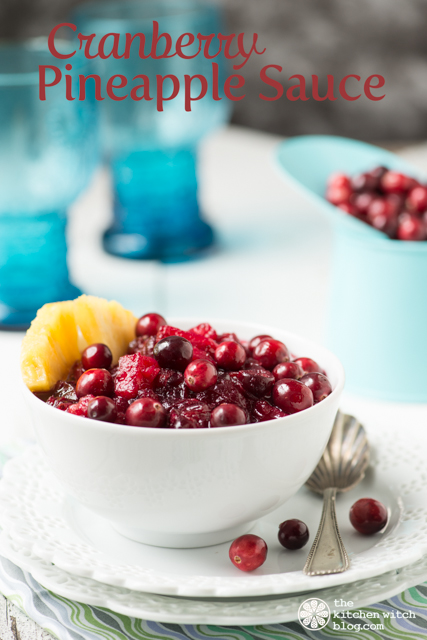 There are so many things that I love about Thanksgiving, after all it is a holiday centered on food. It's a time when families and friends gather together and mostly enjoy the holiday. A holiday steeped in tradition. I've done my share of experimenting with different flavors and dishes. Sometimes the new flavors were stunners, like my pumpple pie and sometimes they fell flat…as in don't mess with tradition. For example the green bean casserole, even though it hasn't been around very long. It was created in 1955 in the Campbell's soup kitchen, a reflection of its time when the world was fascinated by canned and processed foods. And yet it has held steadfast, while certain Jell-O molds and salads have gone by the way side, it remains a Thanksgiving staple.
Although I rarely use highly processed canned foods anymore, there would be Thanksgiving mutiny in my household if it didn't appear on the Thanksgiving Day table. Even in my last cooking class, it was one of the first items to disappear (so much so that I made a note to double it next year). With all my experimenting and my culinary prowess, I keep finding myself going back to tried and true traditions at Thanksgiving; giblet gravy from homemade stock, basic bread stuffing, and unadorned turkey.
However this year I experimented with a Cranberry Pineapple sauce and I have to say that it has been the very best cranberry sauce I have ever made. Pineapple is not traditional and having pineapple in cranberry sauce seems like something more likely to be found in a Hawaiian Thanksgiving feast rather than on a table in Montana. Pineapple isn't even considered in season in November (April and May being its peak season). But fresh pineapple is something that is often available year round. When our local Sam's club had fresh 'Gold' pineapple, one of the sweetest and most delectable pineapples, I couldn't resist. At first I wasn't sure what I had planned for it other than adding it to some breakfast smoothies, and then I got this epiphany to add it to my cranberry sauce.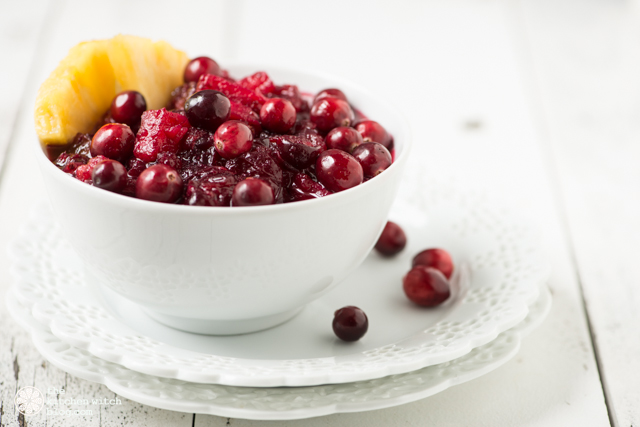 The result was incredible. It added this touch of sweetness and a little acid to the sauce; it simply was a perfect marriage of flavors. Normally cranberry sauce leftovers hang around a bit longer than the others but in this case it had nearly disappeared at my class and the meager left overs I had were gone the next day at home. It seems that I had found a non-traditional winner, one that will find its way regularly onto our Thanksgiving table. In retrospect I see that it is exactly what Thanksgiving is all about, America and its melting pot. One of which I am proud and thankful to be a part of.
If you feel like spreading your wings and trying something new at the Thanksgiving table, I highly recommend this sauce, who knows, maybe in another 50 or so years it'll be just as traditional as a green bean casserole.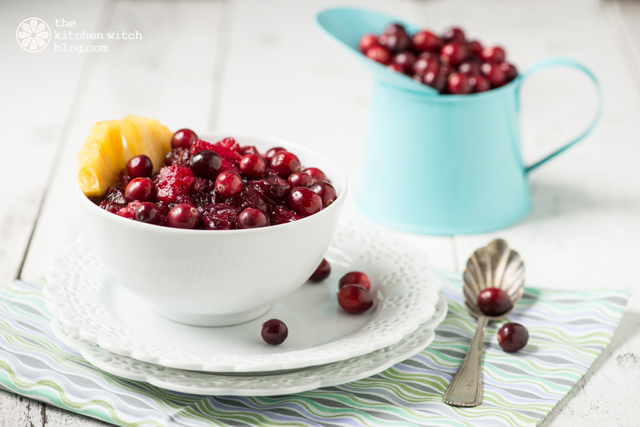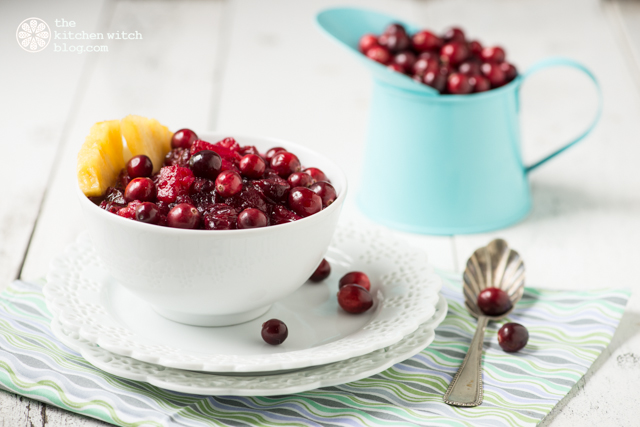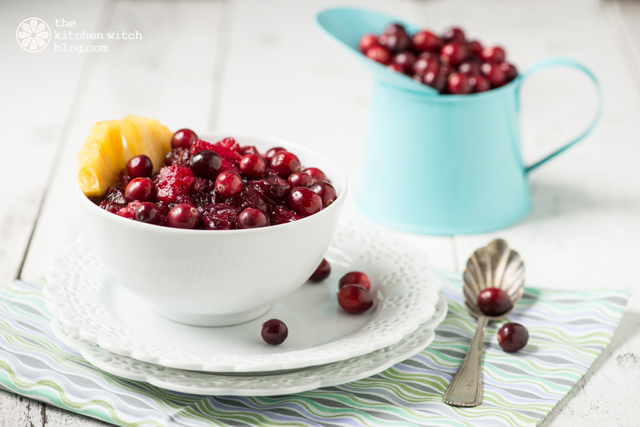 Cranberry Pineapple Sauce
2016-06-09 19:24:18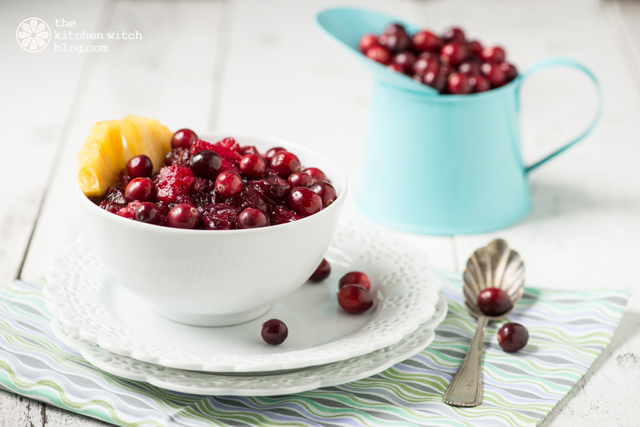 Ingredients
1 bag (12 ounces) Cranberries, washed and picked over
¾ cup sugar
1 cup water
1 ½ cups chopped fresh pineapple (canned pineapple may be substituted)
Instructions
Prepare the day prior or earlier. Place cranberries in a medium sized sauce pan, add sugar and water. Bring to a boil, reduce heat and simmer 12 to 15 minutes. Remove from heat and stir in pineapple. Let cool. Store in a covered container in the refrigerator for up to 1 week.
The Kitchen Witch http://www.thekitchenwitchblog.com/