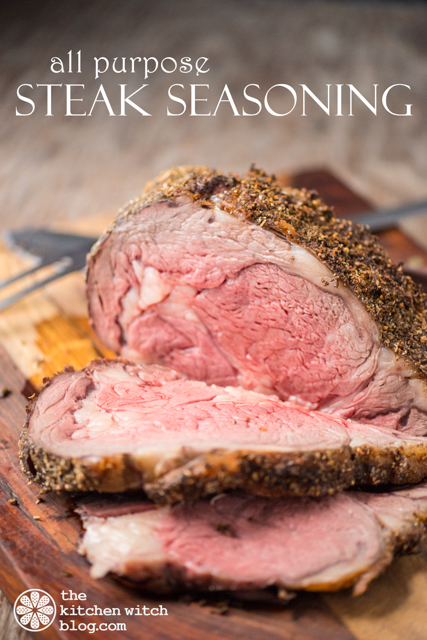 Do you buy pre-made spice mixes or do you like creating your own? I used to be a big fan of spice mixes, Johnny's seasoning salt, Lemon-Pepper, pumpkin pie spice, Italian seasoning, etc. The broader my culinary skills grew the bigger my spice cabinet got and before I knew it I had every spice and herbed imagined stocked! Add each spice plus a variety of seasoning mixes and my spice cabinet(s) were bulging at the seams.
Also as my culinary skills expanded I had specific tastes that had developed, no longer was stock pumpkin pie spice or generic Italian spice mix good enough I discovered I like more ginger flavor in my pumpkin pies and I adore a heavier oregano flavor and the taste of fresh basil in marinara. Slowly I ditched the pre-made spice mixes and just added spices to my taste.
I have discovered that for some things I was always using the same flavor profile and using it often. It was times like these that I missed the convenience of pre-made spice mixes. Like many things in life I have gone back full circle, I now frequently use pre-made spice mixes except now they are my own pre-made mixes. If you are going to make a batch why not make enough for a few dinners and save yourself time later? It takes no extra time to double or triple a recipe.
Some of the spice mixes that I almost always have on hand is my black magic seasoning salt (which I use on and in nearly everything), kale salt, taco seasoning and this all-purpose steak seasoning. I use this steak seasoning on my steaks of course but I also use it on wild game, to flavor burgers and meatloaf. My most favorite way of using it is on a prime rib roast. The bold flavors of this steak rub and its hearty texture add amazing flavor and help make a nice crust on the outside of a prime rib.
Prime rib is what we traditionally have on Christmas, we're usually turkey-ed out by then and I like the simplicity of cooking a prime rib, normally I just serve it with some type of potato a hot veg and a salad, easy and elegant. If you've never cooked a prime rib before I think you'd be surprised at how easy it is to prepare and cook.
The best tip I ever got was to cut the prime rib off the bone then tie it back on with butcher's twine. Meat tastes so much better cooked on the bone but is so much easier to cut off the bone. Deboning meat while it's hot usually ends in a hot mess. By deboning then reattaching the bone you get the best of both worlds. Simply snip the twine once the meat has rested, lift if off the bone and slice to any thickness you like. There's enough going on at Christmas so why complicate it more?
I did a post on cooking the Perfect Prime Rib 3 years ago (wow have I been blogging that long?), you can get more detailed instructions here.
Food Bloggers Photography Tip: When photographing steak, it's best photographed slightly under cooked, this roast is actually closer to rare than medium rare but it looks like medium rare in the photo and it looks moist and juicy. For regular steaks I just cook them until I get nice grill marks then take it off for the photo. It will always look plump and tender, after the photo I put it back on the grill and cook it to medium rare (that's how I like mine).
All-purpose Steak Seasoning
2016-06-09 19:06:04
Ingredients
3 tablespoons black peppercorn
2 tablespoons smoked sea salt
2 tablespoons coriander seed
2 tablespoons dried minced onion
2 tablespoons fennel seed
1 tablespoon kosher salt
1 tablespoon sel gris (grey salt), use kosher if sel gris isn't available
1 tablespoon dried granulated garlic
1 tablespoon dried thyme
1 tablespoon dried rosemary
1/2 tablespoon crushed red pepper flakes
Instructions
Add all ingredients to a food processor, spice mill or blender. Pulse until blended and spices have broken down but not pulverized.
Store in an air tight container until ready to use.
The Kitchen Witch http://www.thekitchenwitchblog.com/