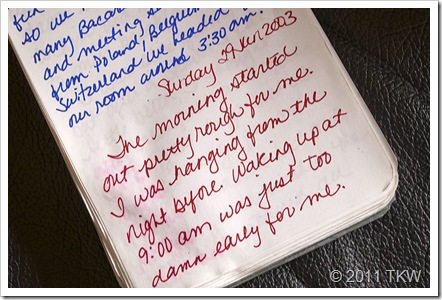 After SRC last Monday, I'm back to posting the journal I kept while McGyver and I traveled 11 countries in 10 days on the Superglide (my other baby).  It's day 6 and it's a big day, so I'm dividing it into two posts.  If you haven't been following along you can catch on our prep days here and here, and days one, two and three, four, and  day five by following the links.  Today is the big concert day that we've been waiting for…

Day 6 (part 1) June 29, 2003

   The morning started out pretty rough for me.  I was hanging from the night before, waking up at 9:00 am was just too damn early for me.  Of course McGyver is usually up at the butt crack of dawn so it seemed late to him and he didn't want to miss breakfast.

   I was slow getting ready but after a shower I felt a little better, I though after breakfast and coffee I'd be good to go but it was still a no go for me.  I went back to bed and McGyver finally washed the bike and gathered all the dirty duds together.  He roused me out of bed at 11:15 and we headed to the campsite to use the laundry mat and visit friends.

When we got there the crew was gone – off to the rally.  We couldn't find the laundry soap that we bought a couple of days prior so we begged some off the neighbors.  In Spain everything closes 1 – 1:30 pm for siesta.  They gave us directions to the wash area and told us the cost.

    There were only four washers and two dryers but we were in luck – or so we thought – one washer was open.  I put in a coin and slide it in but it wouldn't take it – it wouldn't take any of our coins.  We decided that one was open because it was broken.  Well we were in Spain, so when in Spain…  We decided to wash our clothes by hand in the wash sinks, just what we had planned for our honeymoon!

    Just as we were finishing our wash, a dryer came free – we were on that like flies on shit.  Again the damn machine wouldn't take our coins.  Now we knew this thing worked so what the hell was the trick?  I started looking at the coin slot and I realized that it was a funny shape.  The f-ing thing took tokens. 

   Off McGyver went to find out where to buy tokens.  He finally returns with tokens and we are on our way to clean dry clothes.  We wore our swimsuits so we could wash everything.  While the clothes went round and round we hit the nearby beach.

   This is when I decided to go European and give my new hubby a thrill and go topless.  Yup, its definitely the way to go as long as you have good sunscreen. 

(I can't figure out why McGyver isn't looking at the camera and why he is smiling?)

After two tokens of drying, our clothes were still damp – but we were out of time.  We were meeting Dave and Val at 4:00 pm to pick up our tickets for the Rolling Stones.  At the hotel we strung our clothes all over the balcony – very ghetto – but not caring, we needed dry clothes.

   A quick shower and we slipped into our damp clothes and we were ready to see some good rock-n-roll.  Besides we knew the clothes would dry during the ride, especially since the temps were in the high 90s.
Next Monday, we finally make it to the concert!