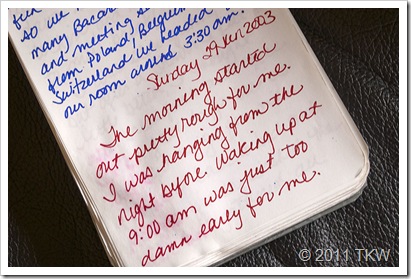 McGyver and I are at the pinnacle of our honeymoon tour, here we are on part to of day 6.  If you haven't been following along you can catch on our prep days here and here, and days one, two and three, four, five and part 1 of day six, by following the links. Today is the big concert day that we've been waiting for…

Day 6 (Part 2) June 29, 2003
The four of us took off and found parking with no problems. Finding where to pick up the tickets was another thing after that was resolved we killed time by getting some beer, water and food and finding a nice shady spot to relax in.

Quite a few folks came up to us trying to figure out where to pick up their tickets. We all had the same story. We had inquired for days at the rally but no one really knew. We met up with this one fellow – one big fellow! I dubbed him Andre the Viking, he was from Oslo, Norway – the land (according to him) where they party and conquer.

Around 6:30 we headed up towards Porto 6 and were pleased to see there were no lines – ah the benefits of being a H.O.G. member and getting early reserved seating. It's a matter of fact, the whole area was blocked off and we basically had our own private area and vendors.

The Pretenders were the opening band, we had no idea that we would be seeing them two days in a row – it was still a good show.

The Rolling Stones came on and started off well. The show continued to get better! Mick Jagger put on a great show! The lights, pyrotechnics, and showmanship were awesome. Well worth seeing. They played a lot of old favorites and some newer songs, we had a great time.

After the concert the traffic was horrendous so we waited until it died down before we left. Although the traffic was routed differently we found ourselves at the Placa Espanya and on our way easily enough.

McGyver is not much of a show off (at least not nowadays), we just ride…but there were some Spaniards who wanted a little show while we were stopped at a red light. McGyver couldn't resist. He revved up the engine and when the light turned green he dropped the clutch and we shot off – I needed to hold on or else I would have fallen off the back. The Spaniards loved the show! We wouldn't have wanted to disappoint the locals.

Although we were tired from partying the night before and thought we would go straight to bed, we were having a great time and decided to have only one drink then off to bed. Of course one led to another…

Even so we would have been to bed fairly early – but that honeymoon stuff was keeping us up later than it should. The next day we were to start our journey back.
Just a little gee whiz info…today is my birthday!