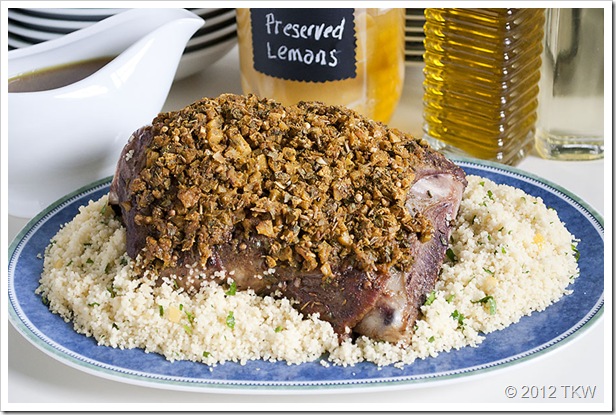 I think I may have over done this month's Daring Cook's Challenge! Carolyn, a non-blogger participant of The Daring Cooks challenged us this month to "Brave the Braise". Carolyn shared with us what braising is:
Traditional cooking methods may be classed as how heat is conducted through the food. First is moist heat (poaching, simmering, steaming or boiling) where heat is conducted through some sort of liquid; be it stock, sauces or steam. The second method is dry heat (roasting, baking, broiling, sautéing, pan frying) where heat is conducted by hot air, radiation or hot fat. Different methods are suited for different kinds of food. Braising, from the French "braiser", offers us a combination cooking method – dry heat followed by moist heat. Typically, meat is seared in hot fat which helps to add flavor and aromas, improves color (browning), and texture (crust). It is then submerged in liquid and cooked slowly and gently at low heat. In a nut-shell that's it! It should be noted that there are endless variations for braising including stove-top versus oven; partially submerged in liquid or completely submerged; or stews where there are many ingredients that are cut into smaller pieces.

Braising has several advantages over other cooking methods in that it provides for uniform cooking when done in an oven with heat coming from all sides instead of just the bottom of the pan as well it requires less attention as it's cooked at a slow and steady temperature for longer periods. Other advantages are that it clears the stove top for other preparations, the dish may be prepared in advance and the flavor improves over time!
Carolyn also provided us with several recipes for inspiration. One of which has been raved about all over the blogosphere is Braised Short Ribs. It's the first time I've made them and I see why everyone adores them! You can get the recipe here.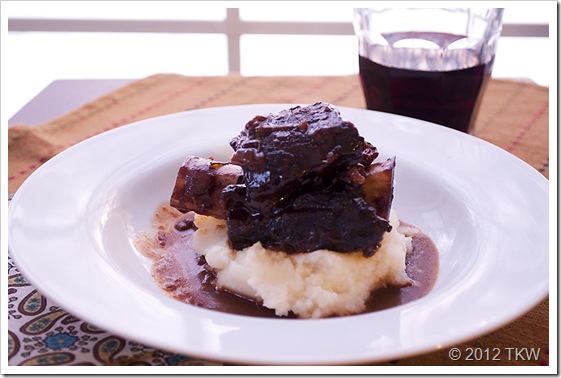 With it being so close to St. Patrick's Day, I had to try corning and braising my own venison. Braising the corned venison wasn't enough for me, I also braised the cabbage and carrots! I posted about that here.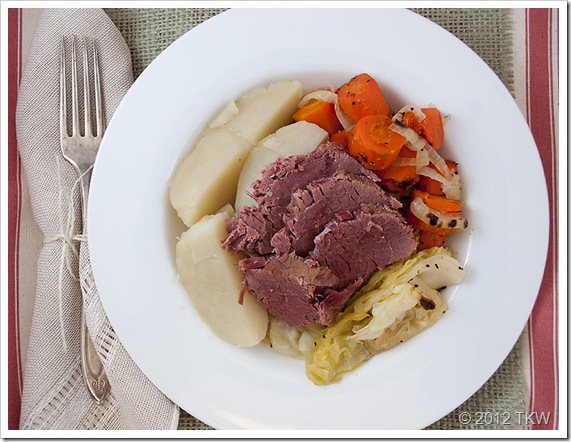 Carolyn happened to mention that oxtail is perfect for braising. Can you believe that I had purchased some and they were sitting in my freezer waiting for the right time. What better time then a braising challenge!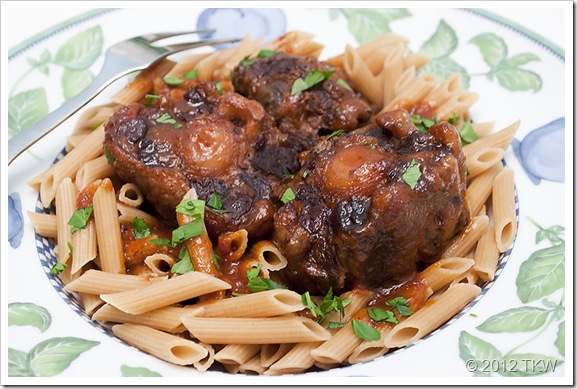 I have been braising food all my life, I just never call it braising. I made pot roasts, I cooked food in crock pots and in pressure cookers; doing the braising method of searing the meat and then putting it on low and slow. Anybody who's spent time in a kitchen knows what low and slow does for a tough cut of meat.
With all this braising shenanigans in my house, I happened to have run across a recipe at Food & Wine for braising greens. This is when I really got braising. Braising isn't about low and slow, although it's often a component, it's the technique of using dry heat followed by moist heat, regardless of the amount of time to cook an item. For example, my baby greens were braised in 15 minutes!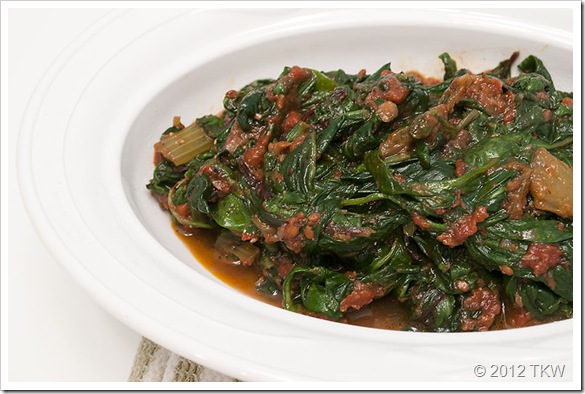 The oxtails and the greens were wonderful, I'll be posting that recipe tomorrow. What I had been planning for weeks was a braised leg of lamb. It just so happens that I ran across another recipe at Food & Wine that inspired me. This time it was for Spice-Braised Leg of Lamb.
Why wait weeks to cook it? I had this idea to also use preserved lemon, to give it a Moroccan tangine flare. Only, it takes 3 weeks to prepare Preserved Lemons, I posted about that here. So now I find myself the night before The Daring Cooks challenge due date, typing up my post, all for the love of the preserved lemon and braising a leg of lamb.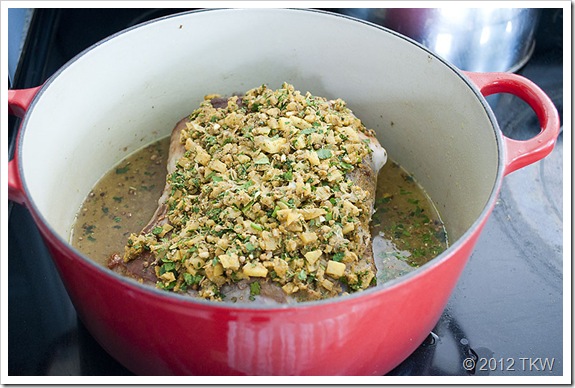 I cut slits in my leg of lamb and filled them with garlic and spices, then seared the lamb, then I covered the top with preserved lemon , parsley and more spice. I added two cups of chicken broth then covered it with a parchment paper circle. I chose to use the paper circle method so that I wouldn't have to worry about the lid staying ajar. If you'd like to see a good tutorial on how to cut a perfect parchment circle, you can check that out here.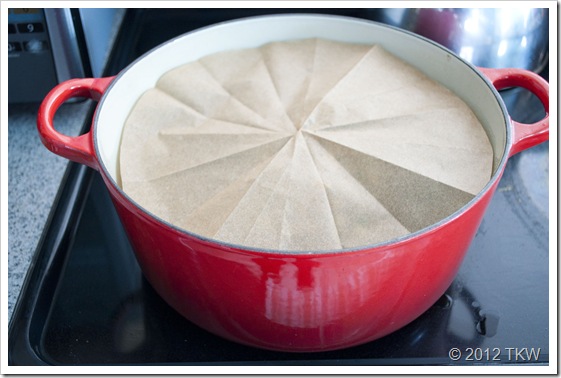 I served the lamb with some cous cous spiked with preserved lemons and fresh parsley, it was a memorable meal. Out of all the dishes I braised the Leg of Lamb with the preserved lemons was truly the best! It may not look as pretty but it was the winner in the taste department we'll over look that.
I think I probably braised almost every way possible this month! Thanks Carolyn for putting together such a fabulous challenge, It's one that will be continuing on and on and on.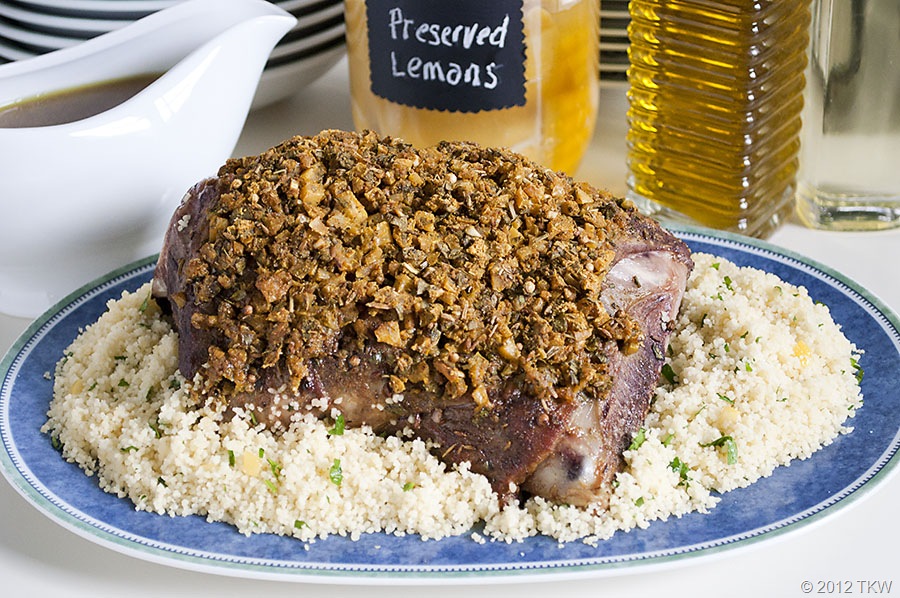 Spiced Braised Leg of Lamb with Preserved Lemon
2016-06-11 22:22:29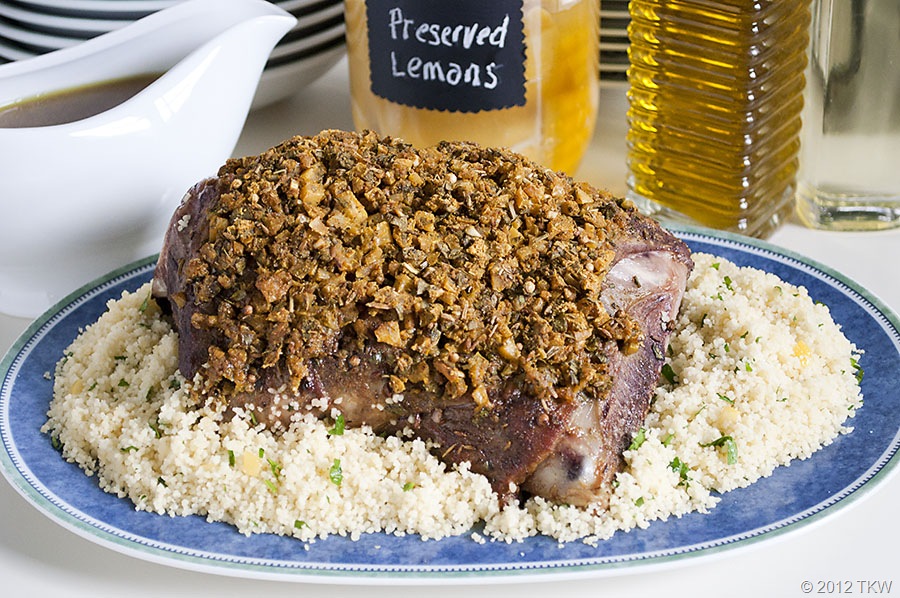 Serves 8
Ingredients
4 garlic cloves, minced
1 1/2 tablespoon thyme leaves
1 tablespoon cumin seeds
2 teaspoons finely chopped rosemary
2 teaspoons curry powder
2 teaspoons fine sea salt
1 1/2 teaspoons ground cumin
1 teaspoon ground coriander
1 teaspoon coriander seeds
3/4 teaspoon ground white pepper
One 4 to 5-pound leg of lamb, preferably from the hip section
1/4 cup extra-virgin olive oil
1 Preserved lemon, finely diced
1/4 cup chopped parsley
2 cups chicken stock or canned low-sodium broth
Instructions
Preheat the oven to 250°. In a small bowl, combine the garlic with the thyme, cumin seeds, rosemary, curry, salt, ground cumin and coriander, coriander seeds and white pepper. Cut multiple slits, each about 1 inch long by 1 inch deep and spaced 1 inch apart, in the meat. Rub the spice mixture all over the lamb, working it into the slits. Set aside any spice mixture that does not adhere. Mix the remaining spice mix with the lemon preserve and parsley, set aside.
In a Dutch oven, heat the oil. Add the lamb and lightly brown it on all sides over medium heat, about 2 minutes per side. Coat the top of the lamb with the lemon preserve mixture then add the stock, pouring it around the leg being careful not to disturb the lemon topping. Cover with a sheet of parchment paper. Braise the lamb in the oven for 2 1/2 to 3 hours, or until very tender. Check the meat from time to time and baste as necessary to prevent it from drying out.
Transfer the lamb to a carving board, let rest before carving. Strain the cooking juices through a fine sieve; skim the fat. Transfer the juices to a gravy boat. Thickly slice the lamb and serve with the juices.
Adapted from Eric Lecerf at Food&Wine.com
Adapted from Eric Lecerf at Food&Wine.com
The Kitchen Witch http://www.thekitchenwitchblog.com/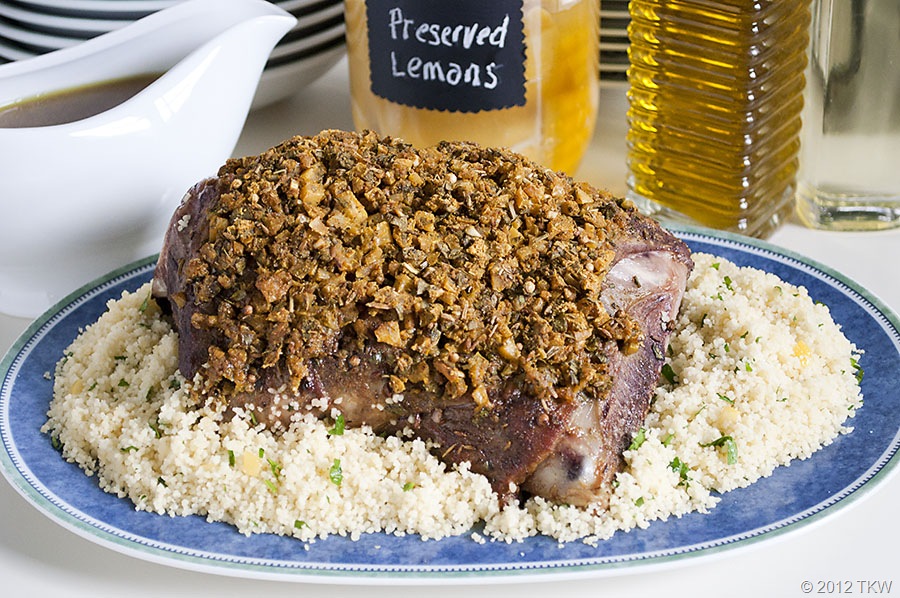 Preserved Lemon Cous Cous
2016-06-11 22:25:44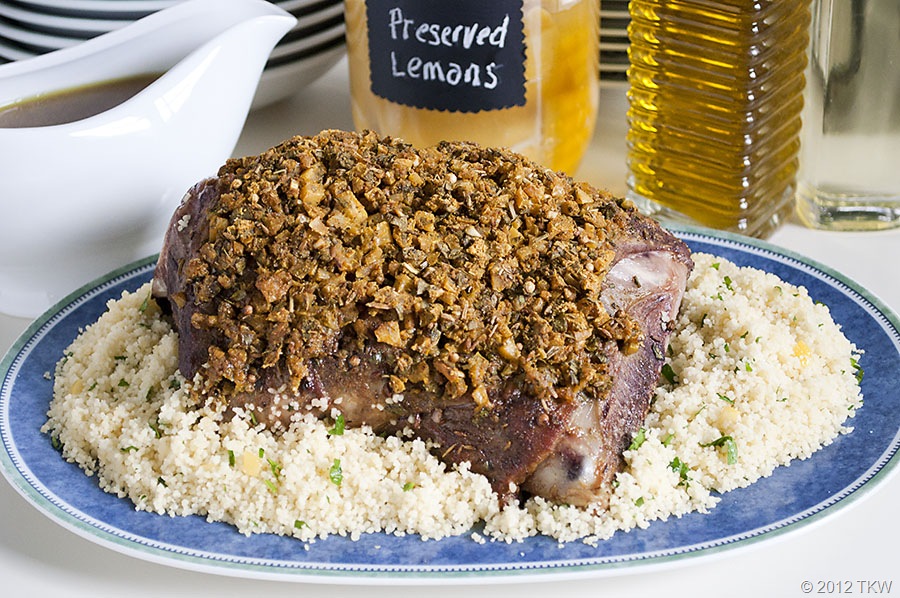 Serves 8
Ingredients
2 cups low sodium chicken broth
2 cups cous cous
1/2 preserved lemon, diced
1/4 cup chopped parsley
Extra Virgin Olive Oil for drizzling
Instructions
In a medium sized sauce pan, bring the chicken broth to a boil. Add cous cous and stir, remove from heat and cover. Let set for 5 minutes. With a fork stir in lemon preserve and parsley breaking up any grains that stick together. Finish with a drizzle of olive oil.
The Kitchen Witch http://www.thekitchenwitchblog.com/