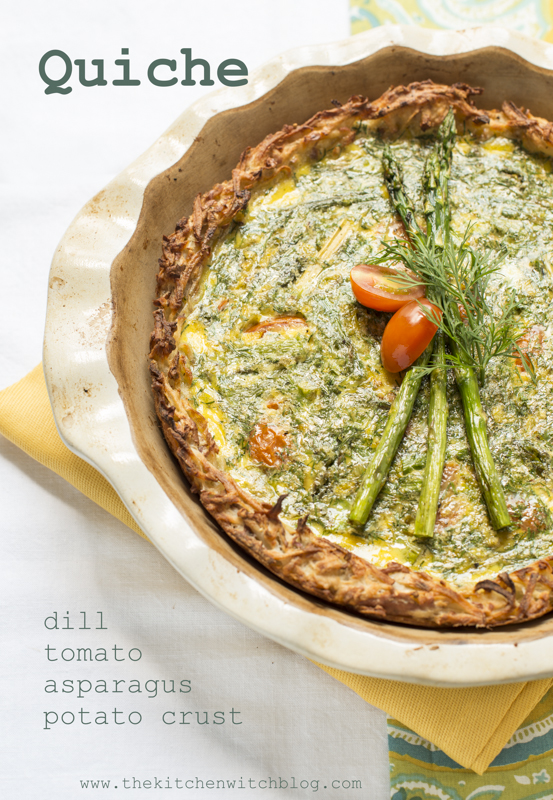 Remember when I received all that dill in my Bountiful Basket? I posted these deviled ham eggs and then I posted the Flounder Olympia (which you need to try if you haven't yet). But that's not all baby! I made this fantabulous quiche also. Actually I made quite a bit more but didn't photograph it all.
After dosing ourselves in dill I realized that I never really used it enough in my cooking. Fresh dill was always paired with fish, or some creamy dressing/dip and used, of course, for pickling. Honestly I use more dried dill than fresh. But that wrong has been righted by the insane amount that I received and a new found appreciation and love for fresh dill.
I so enjoyed the flavor that I will be planting at least 4 dill plants, maybe more? I'm also planting a bunch of Boston pickling cucumbers. A good pair is a good pair.
Speaking of a good pair; asparagus and dill! Why have I never done this before? I know asparagus gets pickled (they've been known to show up in my Bloody Mary's and Caesar's); logically this thought should have occurred to me before! I am mourning the missed opportunities I could have had with dill and asparagus…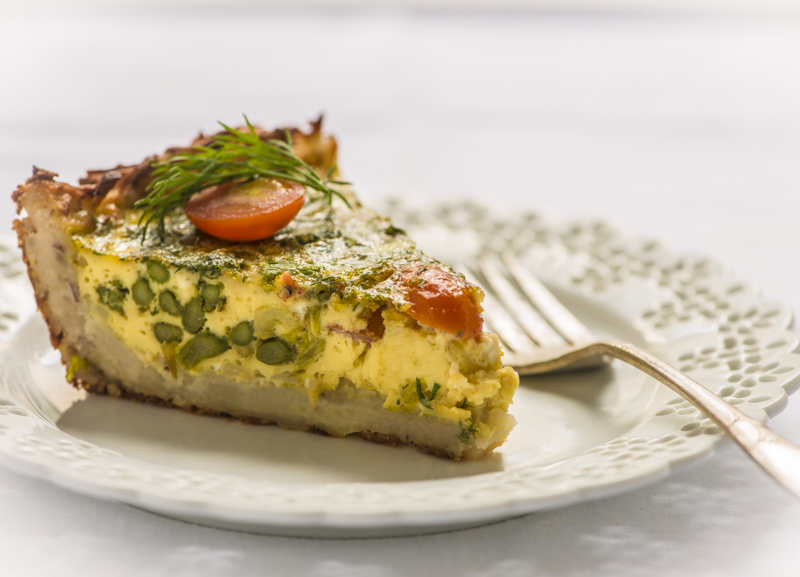 Believe if or not I adapted this recipe from King Arthur Flour, it calls for a mere 1/4 cup flour, which can easily be substituted for 2 teaspoons of cornstarch to make a gluten free version. Besides the dish being a quiche with a potato crust, the similarity ends there, and you know I had to sneak a little lemon in there also.
I can't think of a more perfect brunch dish (or dinner), the potato crust can be cooked (through the first 25 minute baking step) the night before and finished the next morning.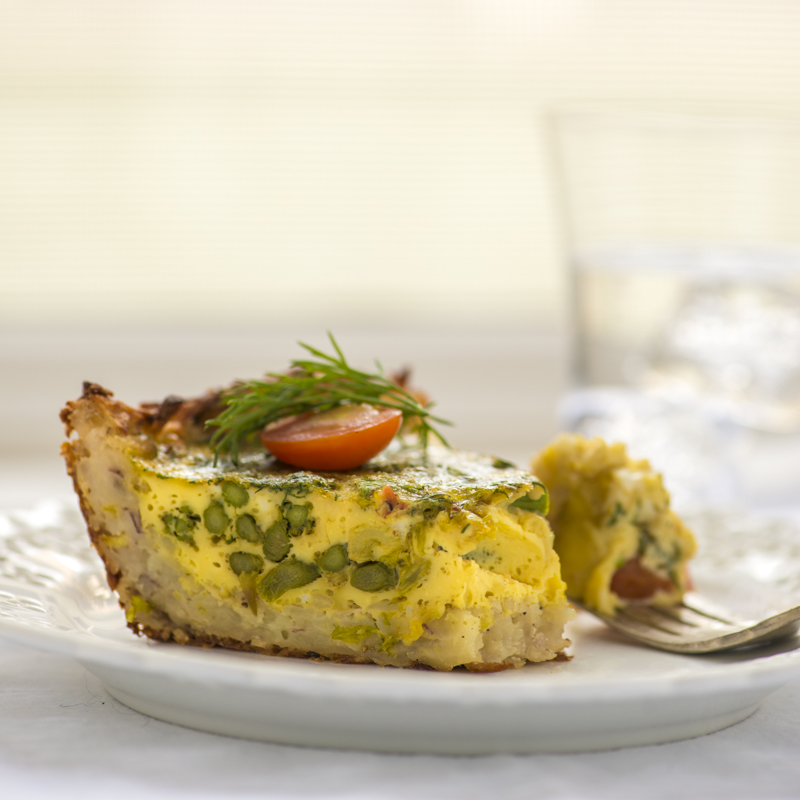 Just a side note: I've been lax about sharing my articles that I write for a quarterly publication. My summer article in The Best of Great Falls is on page 50. It's on lemonade(s) and a towheaded blonde girl who rode a green bike with a banana seat.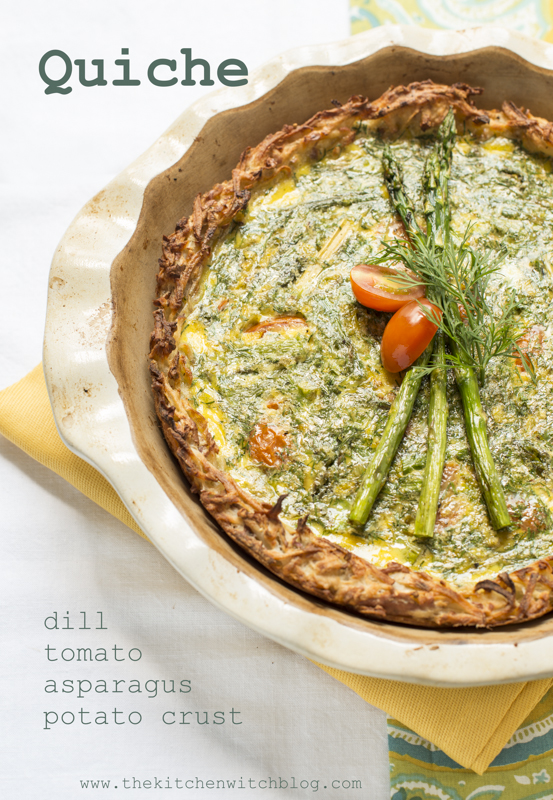 Asparagus Dill Quiche with a Potato Crust
2016-06-10 18:59:49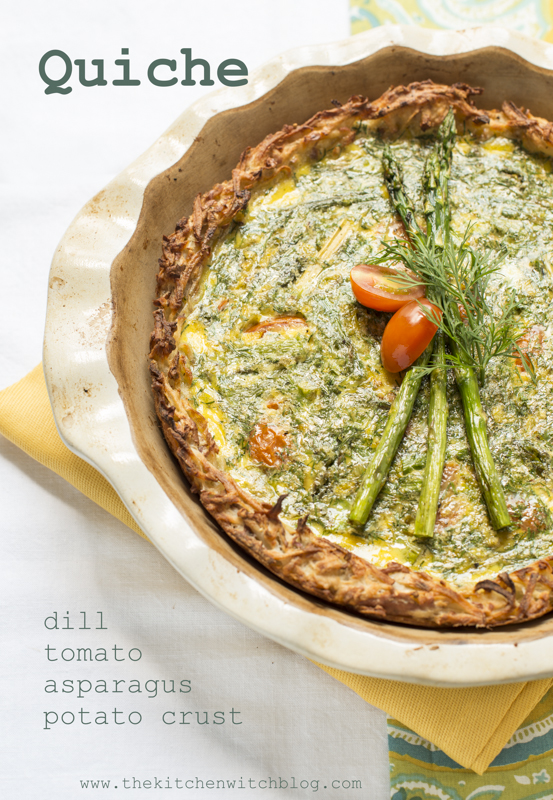 Serves 6
Crust
1 small onion, grated (about 1/2 cup)
1 teaspoon salt
1/4 teaspoon pepper
1/4 cup all purpose flour
1 1/2 pounds red potatoes, grated (or other starchy potatoes)
Olive oil or butter flavored cooking spray
Filling
1 tablespoon olive oil
1/4 cup chopped celery
1 cup grape tomatoes, halved
1/2 bunch asparagus cut into 2" pieces (about 2 cups)
Salt & Pepper
zest of 1/2 lemon
5 large eggs
1/2 cup milk
2 tablespoons chopped dill
Instructions
Preheat oven to 450°F. Spray a 9 or 10 inch deep dish pie pan with cooking spray, or brush with olive oil.
Place the grated onion in a strainer for 10 minutes, occasionally pressing the liquid out. Once drained place in a large bowl.
In the same strainer, press the grated potatoes with a wooden spoon to press out any excess liquid. Add to onions.
Mix flour, salt, pepper and onions. Press evenly into prepared pie dish. Bake 25 minutes (this can be done up to this point the night before, refrigerate until ready to use). Remove from oven and lightly spray the potatoes with butter flavored spray or brush with olive oil. Return to the oven and bake for an additional 15 minutes or until the potatoes are golden brown.
Remove from the oven, turn the heat down to 350°F.
While the crust is baking, heat a tablespoon of olive oil in large skillet over medium heat. Add asparagus, tomatoes and celery. Cook until the asparagus is tender crisp, 5 to 8 minutes. Generously salt and pepper, toss with lemon zest. Evenly coat the bottom of the potato crust with the veggie mix.
In a medium bowl whisk together eggs, milk and dill. Pour over the veggies. Bake for an additional 25 to 30 minutes or until the center is set. Let set 10 minutes before slicing and serving.
Notes
You can replace the salt, pepper and lemon zest for purchased lemon pepper mix.
The Kitchen Witch http://www.thekitchenwitchblog.com/