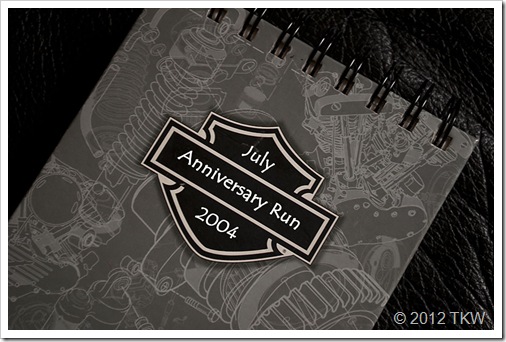 McGyver and I have been traveling from Washington State to Shiloh, Illinois.  McGyver has finally returned from Germany, after a year's separation from me.  He purchased a brand new 2003 Road King while in Germany and had it shipped to Seattle.  His dad kept it for him (and did the break in miles, plus some)  until he was able to move to back to the states.  If you'd like to catch up on the previous days, you can do it here, here, here and here.
Thursday July 15, 2004

After a continental breakfast we hit the road at 0730 with 5, 616 miles.  It was cloudy and cooler then the last few days – a welcome change.  With the sun beaming through the clouds in that majestic and heavenly way in the east, a rainbow to the west and dark clouds straight ahead the day could promise anything.

The further south we traveled the clearer it got and the more it warmed up.  After one of our rest stops, not 5 minutes down the road McGyver split his drawers.  The zipper on his chaps busted open so we pulled over and I got them back on track and we took off again.

Can you believe about 15 minutes later the chaps busted out their zipper again.  this time McGyver just took them off and threw them in the tour pack.  When we got to the gas stop – in the garbage they went!  With limited space there's no room to tote around broken chaps.

We stopped at the Sioux Falls HD dealership after a quick lunch and McGyver got the service folks to give him some padding with sticky stuff to prevent anymore rubbing on the Road King.  I picked up a new jean shirt.  I've been wearing McGyver's XL denim shirt and got tired of tucking it in all the way down to my knees every time I used the bathroom.

We headed on down the road into Iowa on I29.  We discovered that Iowa has the worst roads in the U.S., with a sore ass already every bump and groove was a painful reminder of how long we've been on the bike.

We finished the days run in St. Joseph, MO.  Almost home – tomorrow my husband will finally be home for good.