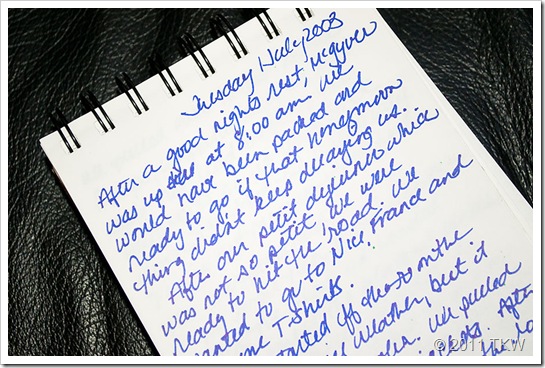 Last week I post Day 7 of our journey, with sad faces we left Barcelona, Spain and stayed overnight in Arles, France.  It was the first day on our journey home.  Today is Day 8 and we make our way through France and into Italy.    If you are just now joining our journey, you can catch on our prep days here and here, and days one, two and three, four, five, part 1 of day six, part 2 of day 6, and day 7 by following the links.
Day 8  July 1, 2008

    After a good nights rest, McGyver was up at 8:00 am.  We would have been packed and ready to if that honeymoon thing didn't keep delaying us.  After our petite dejeuner which was not so petit, we were ready to hit the road.  We wanted to go to Nice, France and get some T-Shirts.

    We started off on the road in nice weather, but it got cooler and cooler.  we pulled off and put on our jackets.  After we headed further down the road, maybe five minutes, it had obviously rained heavy and the road was very wet.  So we pulled over to put on our chaps, unfortunately the exit did not lead back to the autoroute so we went back down the exit the wrong way.  This is not recommended for the inexperienced!

    No more than 10 minutes further down the road we headed into some of the blackest clouds.  Once again we decided to pull over, this time to put on our rain gear.  When you only have a couple of duds to wear and no plans to wash for the next four or five days, you need to keep them dry.

    Getting a good start this morning was like riding herd on a couple of snails!  Again , not more than 10 minutes down the road the rain began.  It rained so hard that cars pulled off to the side and hazards went on.  I have to give McGyver credit. even though visibility was limited and the rain stung like needles, he pressed on going 50-60 MPH.

       Fortunately the storm didn't last long and at the next rest stop we shed all our outer gear, gassed up and were dry and on our way.  In Nice, we stopped at the information bureau.  We got great directions to the Harley Dealership. 

    We arrived at the Harley Davidson Factory shop about – 1:15.  They were closed from 12:00 to 2:00 pm.  So we went to the bar/brasserie across the street for a beer and a ham baguette.  We reviewed the map, filled our tummies and quenched our thirst.

    This was a historic place in Nice, Bonaparte had stayed there from May to December, it made it an unexpected pleasure.  We took our pictures in front of the shop then went in and dug through the shirts to find our size.  Evidently we weren't the only ones that had stopped.  After purchasing our shirts we headed off to Monaco.  The Côtes d'Azur was a beautiful ride.

    There was a storm starting to brew and we were hot then cold, hot then cold…  As we drove the N7 the rain held out but it became very windy through the passes.  One would have thought we were driving through Wyoming with the force of winds we were experiencing.  By 5:00 pm we were exhausted from the traffic, mountains and weather  and decided to stop before reaching Milan.

    About 6:30 pm we headed off the highway (Autostrada) and ended up at at nice 4 star hotel in Marengo near Alessandria.  We got our room, unpacked the bike and showered off the road grime.  We hit the bar about 7:15 pm waiting for the Ristoranté to open at 7:30 pm.  We were a bit underdressed for the restaurant but oh well.  dinner was exquisite, definitely the most high class *meal I've ever had, but what the heck, it' sour honeymoon.  amazingly enough the hotel cost about the same as the 3 star in Arles.

After dinner we hit the bar (it seems to be a continuing theme) for a quick drink.  We need to get a good nights rest before our ride up through the Alps to Oetz for our next overnight.
*Additional notes:  I was keeping my journal years before I got into writing about food, however I was so impressed with our meal that on the very last page of our book I wrote down a few things.
We started with an Antipasti with truffle oil, it comprised of artichoke hearts, green and black olives, sun dried tomatoes,  mushrooms, pearl onions and peppers.
For our main courses we had duck breast with anise and clear gravy, rabbit roulade with truffle and fennel wrapped around pork tenderloin, German fried ravioli, garlic aioli and krauter butter. 
This was also the first time I experienced a "wine waiter", a special waiter rolled a cart to our table with our wine selection and some glasses.  He inspected each glass to ensure they were perfect.  When one of them did not meet his approval he put aside and selected and inspected another.  I was enthralled with the whole ritual.
You could tell by our menu that we were getting closer to Austria, it was amazing how beautiful the Italian and German foods blended together.