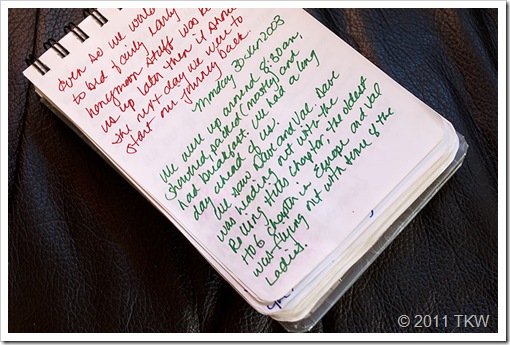 I can't believe it's been two weeks since I've posted a motorcycle related post on Motorcycle Monday.  The last two weeks have been recipe related with my first ever Daring Cooks participation where I cooked with tea and last Monday, participating in the funniest club ever, Secret Recipe Club where I made Frittitane alla Parmigiana from Manu's Menu.
To catch you up a bit my last post, McGyver and I were at the pinnacle of our honeymoon tour, we were in Barcelona, Spain and attending the Rolling Stones concert.  If you haven't been following along you can catch on our prep days here and here, and days one, two and three, four, five, part 1 of day six, and part 2 of day 6, by following the links.
It's a sad day for us, we are leaving Barcelona and taking the long way home so there is much to look forward to…
Day 7 June 30, 2008

    We were up around 8:30 am, showered, packed (mostly) and had breakfast.  We had a long day ahead of us.  We saw Dave an Val, Dave was heading out with the Rolling Hills Chapter, the oldest H.O.G. Chapter in Europe and Val was flying out with some of the Ladies.

    There was some remorse in the air – one of their chapter members, Keith, was killed while in Barcelona, a sobering reminder of how fragile life is.  Not even knowing him, it still bothered us knowing a biker was killed.

    We set off about 11:00 for an easy days ride.  the weather was beautiful, we couldn't as for better riding conditions.  We traveled through Spain and into France. 

I'm never having my picture taken with my helmet again…could I look any dorkier?

Every rest stop we passed or stopped at was filled with bikers, a beautiful and now familiar sight. 

    We found a charming hotel in Arles, France, Le Chevel Blanc (White Horse).

 (source)
After we unloaded, we took a 5  minute walk into town and visited some historic sights.  Arles was a bull fighting town and had a beautiful arena that could hold about 20,000 people, it was built around 90 AD. 

   We found a small restaurant off the main drag and had an excellent meal and some Cotes du Rhone wine.  In no time at all I had a nice wine buzz, a good meal…a guitar player/singer came around and put us in that perfect romantic mood.

It was time to head back to the hotel…
Additional Notes:  While touring we never encountered a problem from anyone, even though we were obviously American.  It seemed like as long as we were thoughtful and courteous we received the same treatment.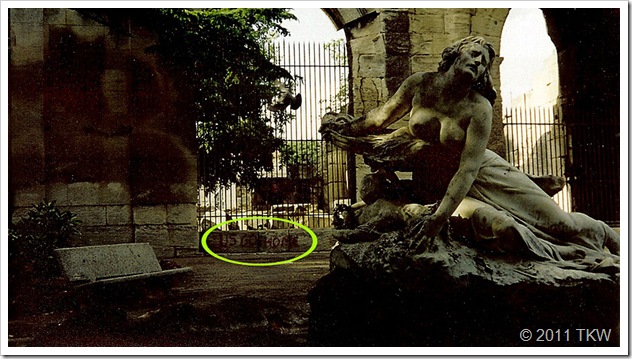 However, we did see some disconcerting comments like the one above "US GO HOME".   We were pretty sure that they meant U.S. and not us.  It saddens me that to see comments graphitized on the wall.  I think that I was more upset about defacing the beautiful old architecture then I was about the comment!