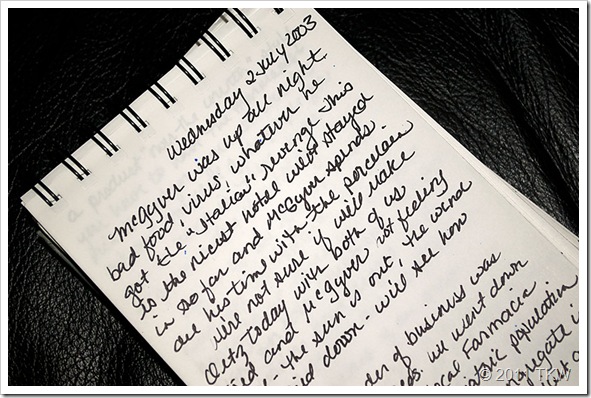 Last week I posted Day 8 of our journey, we ended up in Italy and stayed in fabulous hotel, and I had one of the best dining experiences.  Today is Day 9 and we make our way into Switzerland, we're heading to a hotel that we just happened upon the year before.    We also continue to work on our "ABC's of Touring" (completing the alphabet with town/country names).  If you are just now joining our journey, you can catch on our prep days here and here, and days one, two and three, four, five, part 1 of day six, part 2 of day 6, day 7 and day 8 by following the links.
Wednesday July 2, 2003

McGyver was up all night.  Bad food, virus, whatever he got the "Italian" revenge.  Tis is the nicest hotel we've stayed in so far and McGyver spends all his time with the porcelain.  We're not sure if we'll make Oetz today with both of us tired and McGyver not feeling well – the sun is out, the wind has died down – we'll see how it goes.

First order of business was to get some meds.  We went down the road to the local farmacia where the entire geriatric population of this town seems to congregate in the morning.  You can't just grab a product "over the counter" style you have to have the pharmacist pick it out for you.  It was too hot and smelled of old people for me to hand in there-hope McGyver makes it out okay.

Off we go, we gas up and head for Switzerland.  We are hoping that there will be good signs for both countries.  Not all the borders have signs and some of them are located in too dangerous of an area.

After a dozen or so turns in a 5 mile stretch we hit the Autobahn.  The weather was perfect, not too hot and not too cold.  right through farm country with mountains on either side of us.  We passed Milan on the ring (ronda) road then off to Switzerland.  Again no sign so we talked the border patrol into letting us have a picture in front of the Italian and Swiss customs offices.  We bought our Autobahn pass, 30 Euros just to drive through Switzerland.

It was up through the Alps, our most picturesque ride yet.  As soon as McGyver mentioned it was going to get cool, the temperature dropped at least 15 to 20 degrees.  It was a long slow ride up through the mountains but it gave us plenty of time to enjoy the view.

We stopped in a small town for lunch and had some good ol' schintzel (German comfort food).  We gassed up and made our way to Lichtenstein, we went through a myriad of tunnels and passes.  One tunnel was about 10 miles long.

We saw a turn off for Lichtenstein and rode down the bike path of a bridge to get a snap shot, then we  turned around and saw a great sign for Switzerland and drove down the bike lane on the other side for another photo.

We stopped Vaduz where the Prince of Lichtenstein lives.  We visited his personal wine cellars, tasted the wine and left with a couple of bottles.  We had 28.20 Swiss francs to spend and thought that was the best way to get rid of it.  We missed our exit for Austria but got back on track with minimal problems.  Again no sign, so we pulled over at the border and the guards let us take a picture of the painted flags/crest on their door.

That last leg, for the day or the trip always seems the longest, and this was no exception.  We rolled into Oetz about 6:00 pm.  We didn't have reservations but were hoping that the Post Hotel had a room.  We stayed here over a year ago when we were coming back from the European H.O.G. Rally in Italy.  It was such a great place that we knew we wanted to return but never thought we would.

It is a 4 star hotel but has been the cheapest so far at 54 Euros.  We got a room, brought up the gear, changed into our swimsuits and hit the pool.  The pool was equipped with a Jacuzzi and jet sprays that took the days weariness out of us.   We went back to the room, changed and went to the restaurant for some beers and a great dinner.